Commentary
Columns and op-ed pieces
DJ and Cepi Share a Joint
"I like oil. They got oil. We want their oil,"
Smirked DJ over at Cepi Tayyip.
"But what about the Kurds, who were so loyal?"
Came a hostile, high-pitched Fourth Estate quip.
"I promised Cepi he can have his way,
If we can have the oil." Cepi smiled up.
The Pressman looked at Trump with such dismay,
and then he saw Cepi — all buttercup.
"But, sir, what you're talking is a war crime,
And, frankly, it smells of more quid pro quo,"
Quoth our Camelot, another press corp mime.
To which DJ snapped, "Why, that's a low blow!"
Cepi T snickered, he'd seen this stuff before —
The press all ruffled by such minor things,
War and oil and crime — and those Kurds what's more!
After all, it's what real politiks brings.
He recalled Donald's invasion letter:
"Don't be a tough guy" and "Don't be a fool."
The Press had turned it into a fetter
When Cepi replied, "I won't be your fool."
"Yo, Apprentice prez, what about the Daesh bizz,"
Snarked some intrepid "turd" from NBC.
"Depends on what you def of ISIS is,"
Retortled DJ Trump, without mercy.
Cepi moons, "There's nothing wrong with DJ
That a steamy hamamin' wouldn't fix."
Though an old poet, I felt oy vey!
(I thought of Midnight Express and Hands Blix.)
In a reverie, Cepi thought he heard,
"A Trump Tower along the Bosphorus,
between the two grand mosques preferred,
and just catering to the prosperous."
The press keeps pressing for lit'ral meaning
(something they never bothered 'bout before)
like asking a rooster why he's preening,
A totally worthless thankless chore.
-John Kendall Hawkins
SOURCES
https://www.theguardian.com/us-news/2019/nov/13/donald-trump-syria-oil-us-troops-isis-turkey
https://www.theguardian.com/us-news/2019/nov/08/secure-the-oil-trumps-syria-strategy-leaves-pentagon-perplexed
Do I Dare to Eat an Impeachment?
O, this is "a massive fucking shitshow,"
starting with the blather of Devin Nunes.
We've no way of knowing where it may go.
The vast Left conspiracy is so low,
they want nudies of DJ Trump — such goons!
O, this is "a massive fucking shitshow."
The Schiff-faced "cult" smirked at the google-eyed shmo,
as if he'd howled at one too many moons.
We've no way of knowing where it may go.
Nunes cries, "Russian hoax! Look out below!"
and an unknown Repub operative swoons,
"O, this is 'a massive fucking shitshow.'"
Kent and Taylor talked up Trump's quid pro quo.
"To do what he did was just looney tunes."
We've no way of knowing where it may go.
Them Dems and Repubs going toe-to-toe,
like a battle of spooning silver spoons.
O, this is "a massive fucking shitshow."
We've no way of knowing where it may go.
Sources
https://tinyurl.com/tm75xym
https://tinyurl.com/yx6xk24l
https://tinyurl.com/vzors9d
By John Kendall Hawkins
"Deep State" derives from a John le Carré spy novel.  It is an expression bandied about rather frequently these days. It's in danger of losing its meaning the more it becomes just another little buzzword from Hiveworld, busy bobbing among the festive fields of corn-cockle until exhaustion sets in.  There is a real, non-fictional Deep State, and it's important that we come to understand what it is, before we are driven shallow by the incessant digital stim of the trite and trivial from the cybersphere of internet 'updates.'
One of the more mature and sober descriptions of what the Deep State is, and what it does, came from former GOP congressional staffer Mike Lofgren in a discussion, back in 2014, "The Deep State: Hiding in Plain Sight," with Bill Moyers.  Lofgren spent 28 years working on the Senate and House Budget committees.  He described the Deep State as "a hybrid of corporate America and the national security state."  It is a place, says Moyers, "where elected and unelected figures collude to protect and serve powerful vested interests."
"We're having a situation where the Deep State is essentially out of control," Lofgren tells Moyers. "It's unconstrained. Since 9/11 we have built the equivalent of three Pentagons around the DC metropolitan area, holding defense contractors, intelligence contractors, and government civilians involved in the military-industrial complex [MIC]."  Ostensibly, they all work together to keep America safe under the emotional rubric of "Never Again."
But there's more.  The Deep State has literally declared the Internet a battlefield. There's no democracy on a battlefield.  To help keep the Internet safe from perceived enemies, the MIC, or Deep State, has contracted with corporations, such as Amazon, Google and Facebook to police the cybersphere by gathering information on each and every human online and sharing it with the government.  Thus, the Deep State spends a lot of time searching for and stalking the alleged spies and traitors amongst us, while the corporations are given the green light to exploit and play with our deepest desires. In short, the Deep State is at war with privacy. We are the last frontier. (Think of your obesity as 'economic expansion,' and an act of 'patriotism'. Ten hut!)
In "Anatomy of the Deep State," a follow-up essay to the Moyers interview, Lofgren writes, "That the secret and unaccountable Deep State floats freely above the gridlock between both ends of Pennsylvania Avenue is the paradox of American government in the 21st century: drone strikes, data mining, secret prisons and Panopticon-like control on the one hand; and on the other, the ordinary, visible parliamentary institutions of self-government declining to the status of a banana republic amid the gradual collapse of public infrastructure."
I thought of Moyers and Lofgren's discussion as I reconsidered "Homo Contractus," perhaps the most important chapter of Edward Snowden's recently released memoir, Permanent Record.  Snowden, the repentant whistleblowing Deep Stater, expands on and clarifies the inherent corruption and darkness of Deep State doings, and paints an inescapable picture of a dystopian nightmare underway.
Gone are the days of public service, of wanting to be a shiny, unhailed cog in the machinery of American Exceptionalism — flaws and all — such as Snowden's father and grandfather had gladly been.  "I had hoped to serve my country," writes Snowden. "but instead I went to work for it. This is not a trivial distinction."
Moyers and Lofgren provide us with an abstract overview of the situation, but Snowden brings the nuts and bolts. To get around congressional hiring limits, Deep State agencies hire private contractors who are off the books — no real public accountability for deeds, and, in most cases, we don't even know who they are.  Lofgren has estimated, "There are now 854,000 contract personnel [as of 2014] with top-secret clearances — a number greater than that of top-secret-cleared civilian employees of the government." They are virtually a whole sub-species of worker that Snowden refers to as "homo contractus." They run the surveillance state show — some of them looking for enemies of the state, and others on the look-out for enemies of Deep State doings. In the war zone, they call the shots without any input from the public.
Members of Congress go along with this arrangement, says Snowden,  because "[Deep State] directors and congresspeople are rewarded, after they retire from office, by being given high paying positions and consultancies with the very companies they've just enriched. From the vantage of the corporate boardroom, contracting functions as governmentally assisted corruption."  Private companies wait for public servants to obtain top security clearances, then they poach them through Job Fairs, where public servants are offered huge salary increases doing the same job for a private company — and, as Lofgren's statistic indicates, many are jumping the ship of state to go yachting with the corporates.
Take Snowden, he was hired at such a fair by a BAE sub-shell company called COMSO (Snowden never learned what the acronym stood for).  At the interview he negotiated his salary up, at the recruiter's insistence, because a 3-5% kick-back to the recruiter, from the government, made it worthwhile. He went from $30K to $60K in the negotiation play. Says Snowden, "Bumping up salaries was in everyone's interest—everyone's, that is, except the taxpayer's." He was a contractor, but he was doing the same work as a public servant. Later in his career he was hired by Dell computers, then Booz Allen Hamilton, each time merely switching business cards, but working at CIA headquarters for the CIA, a homo contractus spook among the spooks. No public accountability.
Snowden says homo contractus brings with it a different kind of energy — something "sinister."  Not governed by a sense of public service, a certain arrogance and elitism become the filters of their deeds.  The military-industrial complex is bound together in a negative agreement — homo contractus hiring is a skirting of the law, and a profit-making arrangement.  Contractors, says Snowden, often see their work as "inherently apolitical, because they're based on data, whose prerogatives are regarded as preferable to the chaotic whims of the common citizen." In other words, they know better than democracy.  Snowden adds, "That can be intoxicating, at least for a teetotaler like me. Also, all of a sudden you have not just the license but the obligation to lie, conceal, dissemble, and dissimulate."
Out of this comes governmental policies that push and sustain the interests — not of the commonweal — but of the parallel government that exists between private players and the Deep State.  The net result is a revolving door between the ever-expanding Intelligence Community and private companies, each sharing in the spoils of the public purse. So, we read of DARPA directors jumping to Google, and Google's work with drones for the Pentagon. Amazon ends up devising  web services for the CIA, and Jeff Bezos' other project, The Washington Post, becomes the conduit of choice for anonymous intelligence agency leaks.  We discover that Facebook sells the information of its users to private firms, and experiments with human emotions that may have relevance to intelligence agencies. 
It can get even more sinister.  If the Deep State wants to go to war, without public approval, and for profit motives, it can use its technology to spy on individuals to uncover compromat, such as what the Bush administration ordered in 2003, just before the invasion of Iraq, when it tried to dig up dirt on UN Security Council members to strong-arm them into voting for war. When their deeds were leaked, the US went to war anyway — backed only by phony WMD claims.  Hundreds of thousands of casualties have ensued.
It may yet get even more sinister.  Many of the cybersecurity firms that operate today are manned by analysts and techies who are themselves products of homo contractus. Crowdstrike features ex-FBI agents. They were also "politically aligned" with the DNC, which is interesting, if for no other reason, than it was the FBI's James Comey who did as much damage as anyone to Hillary's campaign. It raises the question whether there were homo contractuses on duty during the events that unfolded. You just don't know: Edward Snowden's business card read "Dell," but he worked for the CIA. Hmph. 
More bewildering was the testimony that Kevin Mandia of Mandiant gave before a Congressional subcommittee on intelligence back in 2011.  It was double-take stuff:
The majority of threat intelligence is currently in the hands of the government. Indeed, more than 90% of the breaches MANDIANT responds to are first detected by the government, not the victim companies. That means that 9 in every 10 companies we assist had no idea they had been compromised until the government notified them.
Gobsmack time.  But it gets better. Mandia has reported in the past an incident where he slid a folder across the desk of a skeptical corporate executive (he was confident in his company's security integrity) and the exec is described as bbeing shocked to find in the folder deep secrets of the company.  Mandiant was hired.
Mandiant's Kevin Mandia broke his cyberteeth at the Pentagon as an intelligence officer.  After fumbling around for a few years, including a stint at ManTech — a cybersecurity company full of ex-spooks — he and his Mandiant associates are said to have solved the puzzle of the New York Times and Washington Post breaches in 2014, which ended up in the indictment of a cadre of soldiers from China — America's preferred enemy at the time.  From there, things blossygossled. Mandiant got famous overnight, one thing led to another, until Mandia found himself being bought out by cybersecurity company FireEye, a CIA-funded start-up, for a billion bucks. Mandia was made FireEye's Chief Operating Officer.
Again this highlights the opacity that masks the Deep State doings when it employs homo contractus. We don't know what they get up to, despite being on the public dollar,indirectly.  Mandiant, like CrowdStrike, was responsible for evaluating the server breach at the Democratic National Convention in 2016.  As Mandia has already acknowledged, he has in the past received insider information, from the government, regarding breaches at corporations.  One wonders whether CrowdStrike or Mandiant, or any other cybersecurity contractor, received a tip-off regarding the DNC breach, and that's why it was never forensically examined — although that didn't stop an 'opinion of cause' being issued by three intelligence heads, leading to the MSM's under-critical acceptance of Russian hacking.
Further, as if we need more worry, such a homo contractus arrangement with the Deep State, already undemocratic, appears to be metastasising overseas.  The CIA and NSA are helping repressive regimes, like Saudi Arabia and the UAE, build their own bespoke and state-of-the-art (naturally) surveillance regimes, and watch indifferently as these tyrants with too much dinosaur money use the technology to spy on "enemies," including dissidents.  How un-American.  
Already, there has been cause for alarm, as companies like DeepMatter, employing ship-jumping analysts from the NSA go after American dissidents and journalists too.  The NSA and CIA are virtually beyond law in these countries.  What they couldn't get away with in America, they can do with impunity in SA and the UAE. Even Google's work with Dragonfly, a project designed to give China a search engine devoid of human rights queries, suggests we are now in the business of exporting panopticon products.
As Mike Lofgren told Bill Moyers a few years back now, the Deep State is "the red thread that runs through the history of the last three decades. It is how we had deregulation, financialization of the economy, the Wall Street bust, the erosion or our civil liberties and perpetual war." We've been warned now for a few years by the likes of Moyers, Snowden and others.  None of them are conspiracy-theorists. Snowden certainly believes we have entered into dystopia territory. Which would mean democracy is finished as a global solution to population management.
Only the self-proclaimed gods of digi-stim know what happens next.
By John Kendall Hawkins
I was musing inconsolably, a picture of Donald Trump seated with Recep Erdoğan at a Taksim Square cafe in the Golden Horn, broken heads strewn everywhere, pigeons out of control, fishmongers singing the blues — Don and Ceppi, good buds comparing notes on how much they hate journalists, demi-tasse pinkies high. "Enemies of the state," they harmonized over blood-kurdling screams.  Two men talking up what they would do and what they have done.  Leaning in, getting evil, sharing Khashoggi jokes — how much fun it was to pull MbS's chain.  Trump saying, "Mohammad got back to me and mewled, 'That wasn't very nice, Donald.'" They finished and headed toward the Red Light, Ceppi saying, Pulp Fiction style (to Donald's ticklish delight) glass-caged Red Sparrows were on display.
When my attention was diverted by further hijinks.  Hillary Clinton came rushin' in to the already turgid news cycle to announce she would be interfering in the 2020 presidential election. When last we saw Clinton, the tears of her true supporters (about a glassful) had been tossed at her and she was melting, melting  in her humiliating loss to the Cowardly Lion she had wanted to face in the finals of the Ugly Pageant of 2016.
Here she was back again for more.  Hilarious Hillary, who'd once quipped of Daffy Gadaffi's death: "We came, we saw, he died." And she laughed so hard about it they made a haw-haw porn. Appropriately, her joke derives from Caesar's famous lines, Veni, vidi, vici.  Word is, Caesar, in turn, derived his rattling words from overhearing (on his right side) two centurions talking — one snorting: I came, I sowed, I cankered. (Translation?)  Which is, of course, what happened to Democracy. Eventually, all great ideas get hospitalized with venal diseases.
And after Benghazi, nobody but nobody wanted to fuck with Hillary. Everybody on the DNC knew Bernie was being flipped, but, when the chips were down, he lacked the cajones to stick up for the "socialism" the campus kids cuddled up to so much.  (Now, they've luke-warmed on him). It was reminiscent of Al Gore, who kaputchoolated to the Spy President's son in 2000. And now we have climate change that came at us like a new Pearl Harbor.
Anyway, there she was again, back for more, taking the mickey out of the first female war veteran to run for president.  Implying that Gabbard was a Russian asset because, as the "failing" NYT reported, she'd received unsolicited support from the deplorable fringe-dwellers.  Then she accused Gabbard of wanting to run as a Third Party candidate, for the sole purpose, as an asset, of taking votes away from the Democratic nominee for president. She also took the opportunity to have a go at Green Party leader Jill Stein. When asked if she was gossing that Gabbard was a Russian Scabbard, a Clinton spokes-acolyte said, "If the nesting doll fits." What an assoh!
It got ugly from there. Likening Clinton to a bad case of food poisoning the DNC had finally Linda-Blaired out, Gabbard said that Clinton was a "personification of the rot that has sickened the Democratic Party for so long." Sweet Cheeses! Let the exorcism begin. In a tweet Gabbard went on, "It's now clear that this primary is between you and me. Don't cowardly hide behind your proxies. Join the race directly." Meow and hiss.  High stick hockey was back.
There was Clinton back to whinging about why she lost — just as sickening as having to listen to Trump continually whinge about why he won.  He won, not because he was more popular, but because he garnered more votes from the pay-to-play elites who make up the Electoral College system that Clinton adores — a system that Trump has criticized in the past. A system that seems almost arbitrary in some ways, with electors in about half the states not bound to vote according to popular outcome.  
She didn't lose because of a Third Party candidate (unless you want to count James Comey). Jill Stein didn't kill her. It wasn't Ralph Nader all over again. The presidential election shouldn't be a taste test between the less evil flavor — exclusive of all others, year after year. Why, that would be anti-trust territory. Who is not tired in consumer-driven America of hearing neo-libs say citizens have only two choices at the polls: Coke or Pepsi.  Fuck that. Some people like 7 Up. I myself don't mind a shot of Mountain Dew once in a while. If Sanders had balls, he'd run as Dr. Pepper. Wouldn't you like to be a pepper too? What do you mean two choices only? Is this America?
Clinton didn't mind working with Russians (through Christopher Steele) to dredge up kompromat on Trump's touchy feely doings in Moscow, which, no doubt, would have come in handy as an October surprise — if she's needed it against the foe she hoped to face.  But who knows? If he got through PussyGate without any serious setbacks, then maybe details of golden showers delivered from a gaggle of would-be Red Sparrows would have seen him win in a landslide.  It's a porno world.
And the MSM has not helped — taking pot shots at the candidates, just to remind us all, it seems, just how nasty, brutish and long the campaign season can be. Bernie's been blasted for speaking truth to the Press, calling his legit crit of their sensationalism Trump-like.  There's been picking at the scabby white lies of Pocahontas' past. And Joe "Jiffy Pop" Biden, who has had people come from miles around to pick his brains, endured the humiliation of being challenged about his mano-a-mano moment with Corn Pop. And Trump has been savaged so frequently in recent weeks that it's as if there's a press pool bet to see who can drive him to drunkardhood and ruin first.
There's enough ahead to worry about in the coming presidential campaign season.  Wonky databases continue to disenfranchise voters. Voting machines are a catastrophe waiting to happen.  The electoral college continues to warp the will of the people. Two-party taste-test politics continues to bore the buds.  And also it looks like the world's about to end. Just sayin'.  
And if that weren't bad enough, naughty Putin is taunting the Americans — whispering that he intends to meddle again in the presidential elections.
You could ask: Why bother?
by John Kendall Hawkins
"To dwell together in peace, to seek the truth in love, and to help one another."
– All Souls Unitarian Church Covenant

"O, what a tangled web we weave when first we practise to deceive!"
Marmion, Walter Scott
The URL Sea
Last time we saw Tim Berners-Lee (TimBL), he was weeping by the information highway, google-eyed clowns in honking cars passing by — spam, assorted junk, broken links, tossed at his feet — on their way to the URL Sea to do some phishing for ids and IDs.  Working at the CERN particle accelerator in Switzerland, St. TimBL "decided that high energy physics needed a networked hypertext system and CERN was an ideal site for the development of wide-area hypertext ideas."  See the blue 'weeping' links above? TimBL, the Unitarian-Universalist, did that for science — provided an electronic pathway to further information — and then, because he was so chuffed by its success, he served it up as the Web, for free, to the whole wide world in 1989. 
The Internet, originally a product of the US military, and around since the 60s, was virtually unknown to the general public. It was an electronic data system that allowed universities and government agencies to share information in a sometimes clunky and often inefficient fashion. The World Wide Web brought structure and efficiency, its underlying coding language (HTML) and delivery protocol (HTTP) made it easier for would-be data hosts to build websites using applications like WhatYouSeeIsWhatYouGet (WYSIWYG). 
People went to work immediately building that Library. Some people swear that they never saw so much free porn in their lives.  I myself loved 'link surfing' — each day presented a new hypertext adventure. TimBL was hailed as a Martin Luther King (think, decentralization) , Gutenberg (publishing), and, alas, Robert Oppenheimer (a Bomb that could change everything).
Thirty years later: What a mess. What was supposed to serve humanity by accelerating particles of data around the globe to create a kind of Library of Alexandria that people could help build with data, as well as borrow from at will, seems to have gone as disastrously wrong as its ancient predecessor. Flamers everywhere, advertising retinues, more and more centralization of data, the Internet as a battlefield between States which has militarized the data stream and turned it into a security risk requiring constant monitoring.  TimBL looks at the highway today and sees lovely tumbling papyrus scrolls strewn everywhere, like trash. Humanity is being served up to the appetites of Google, Amazon, and Facebook. Corporates sizing up our desires, Intels seizing on our souls.
Not only has the Web become the feeding grounds of predatory corporates and spooks, but global governments have stepped in to regulate it in a number of ways — including the UN's ITU body that seeks standards and protocols for current and emerging communivction technologies; the US release of ICANN, which some people feel intentionally releases the US from First Amendment obligations; net neutrality issues, with its pay-for-play implications; new link laws that would make a service provider legally responsible for content links — be they code of conduct issues or copyright issues; search engine manipulation; and Internet kill switches, to name some of the looming weaving of the Web….
TimBL is appalled to see such interference with his brainchild.  In addition to the strangleholds described above, the Web has brought out some of the worst facets of human personality and chased away the better angels of our nature (someone I know said they saw poor Ralph Nader loping away from it all in tears, idle tears). We have turned into trolls who burn our own bridges, clowns who never say clever, spies for the government here and spies for government there, and super-viced by yet other spooks and spies. Our Victorian unitarian TimBL has watched the Web turn into the Grand Bizarre porno hub. Enquire has become the Enquirer. Even the Lady of Shalott has not been able to handle Lancelot galloping hotly by on his way back from shovelling chivalry in France — with a feather in his cap.
Enough! cried TimBL.This is not my beautiful Internet — this is not my beautiful Web.  All that hivemindedness.  Was TimBL criminally naive to believe that his mosaic catalogue would not inevitably — you know, given the human condition — backslide toward baal once the language of the Web could be exploited?  Jeez, didn't he read Animal Farm? Freedom today, totalitarianism tomorrow. He almost went Sam Kinison (and who woulda blamed him?), after the events of 2016.  But TimBL fought back — quietly, efficiently and with a new Web paradigm for his links that he calls Solid. Like a Marvel Comics character who actually does  good, TimBL slipped into a phone booth and — made a call to D Central Eyes.
Hey, Kids, Let's Play 'Alan J. Qaeda'
Well, 1989 was a watershed year, a year of decentralization. Not only did the Berlin Wall come down, but even the Stasi trees were lopt. TimBL did his WWW thing with decentralizing hypertext.  And, of course, 1989 was the year that US-backed al Qaeda was born, an Islamic jihadist organizatiuon notoriously difficult to infiltrate and destroy, onnaccounta it was decentralized; if you whacked one mole, another popped up. Plus, they wouldn't wear uniforms on the battlefield to make it easier for American forces to atrocify, necessitating their designation as "non-state enemy combatants," meaning 'the gloves' came off, 'we make history now', and the happy double-tap regime began. Kids started playing Cowboys and al-Qaeda.
TimBL wants nothing to do with things like that.  He has begun to see that we, the netizens of the Web, have begun to be treated as if we were all al-Qaeda suspects in the War on Terror, the non-uniform diversity of our private lives an implicit threat to the State, requiring constant surveillance, by any and all means necessary, to protect the central governing forces of the Internet. In this sense, the War on Terror is a war on decentralization and privacy, and those who would reject this premise end up on watch lists. TimBL's  become a militant, but politely so. He's been pushing for a Bill of Rights that would protect our cyber activities, because the "open, neutral" vision he had of the Web 30 years ago is on life-support.
"There are people working in the lab trying to imagine how the Web could be different. How society on the Web could look different. What could happen if we give people privacy and we give people control of their data," Berners-Lee told Vanity Fair in 2018. "We are 3/5 building a whole eco-system."
TimBL essentially wants to start over again and build a new Internet — or, at least, provide an escape path for anyone who values the sacrosanctity of his or her privacy. He calls it Solid. And in many ways it's just a return to the good old days of decentralized link-to-link information. (Raise your hand if you can remember Usenet, peer-to-peer networks, the miracle of torrents —  but most importantly the personal control of your own data.) TimBL introduces the concept of the POD, a storage container, of sorts, for all of your personal data that can be held on a USB stick or stored on a Web server.
 "Think of your Solid POD as your own private website," proclaims the site. And if you go to your POD you'll see a webpage that looks like a control panel, where you manage various data and apps, while providing levels of access to others. At first look, it seems like a daunting task to move from the current iteration of the Web to TimBL's Solid configuration.  "You don't have to have any coding skills.," he told Vanity Fair. A good place to get a feel for what's being developed at Solid is to check out their forum, see what they're discussing.
But it remains an open question whether it will catch on and replace the 'empire burlesque' of monetized algorithms and government gathering of private data.  What if the government wants to infiltrate and seek out "Terror" on Solid servers? Who would switch? Might it just revert back to early version of the Web, used by only networks of academics, scientists, journalists, etc., but no real numbers of ordinary people, a kind of snobnet?  For TimBL, it's now or never: 4 billion people online, which is a critical milestone.
Researcher Steve Wilson, asks BBC News,  "Even if people could control their personal data, what does Solid do about all the data created about us behind our backs?"  Good question, and more importantly, what about all the mountains of data we've handed over to Them in our online experiences already — since, say, 1998, when Google was founded? But chances are good that conditioned responders will just lay down tracks– back to the sugar shack.
Saving Private Normal
TimBL means well, and his stated intentions are the key: He wants to restore democracy, freedom and privacy, which he sees as crucial to the Decentralization Project. Such needs are also crucial to Humanity, the evolutionary project that now sees us, as Nietzsche imagined, somewhere between beasts and supermen (or machines). So, TimBL's recovery of the Web, while wonderful, can be seen as part of a growing movement to breaking away from central control, in general, going off grid:  mesh telephony, cryptocat messaging, survival kits, even zany invisibility wear.  Again, stuff al Qaeda might do. We need to figure out how to hide from the Internet of Things, which, when you think about it, can make existence so hellish, as if the world were suddenly constructed of molecules made of eyeball atoms reporting on you from every possible angle, inside and out. Like you woke up one morning and found out that Dali was god. 
All of this — TimBL to invisibility — seems indicative of a paradigm shift, an instinctual understanding that our habitat is in collapse mode, that our greatest tool for survival — consciousness — is in peril.  There's no guarantee that people will want to be rescued. Lest we forget, despite everything, Ryan could not be coaxed into going home.
by John Kendall Hawkins
You could be forgiven (but what's the fun in that), if you were to think.  Looking at Jacques-Louis David's neoclassical painting The Death of Socrates, you could believe you're seeing Socrates giving the bird to democracy and demanding that Crito give him the goddamned chalice full of hemlock, and get out of the way.  There are different versions of what Socrates' last words were. I thought I heard, "Tell my neighbor, Asclepius, he's a cock, and I owe him one."  But I'd just come off reading The Clouds, Aristophanes' take-down of Socrates, so I could be wrong. All we know is that he was in a foul mood. 
And he had a right to be.  All those Ralph Nader-like years of public service, including a distinguished stint as a soldier during the Peloponnesian War, only to be told, like most any vet, that things had changed since his return from his tour of duty. The Thirty Tyrants banned him from speaking in public — his dialectics had a tendency to undermine their reign of terror. He never spoke out against the oligarchy directly, but he did continue to be a "gadfly" for every horse's arse who came his way: encouraging each to think for himself. When democracy was restored, his influence was not forgotten by governmental leaders.
Socrates famously quipped, "The unexamined life is not worth living."  Socrates' Golden Rule is built into the foundation of American democracy. A life that is not examined is one controlled by the thoughts of others — open to deception, propaganda, and subterfuge.  An examined life is built into Thomas Jefferson's notion of a "well-informed public." Augmented by the mission of the Fourth Estate, which is to keep the citizenry informed and the Bastards Honest, well-informed, self-examining people are in control of their representative government. Ideally. But there are a lot of Ee-yores, assorted horses arses, and serial ignoramuses out there.  Even a Ralph Nader can only do so much.
Ultimately, Socrates was convicted on charges of impiety and corruption of youth. Only the latter really matters (nobody really gave a good goddamn about the other one).  At the core of his dialectical philosophy was the directive: Question Authority.  He demonstrated his method daily, followed around Athens by youthful acolytes, as he took the mickey out of the Know-It-Alls in power. Even in the heyday of democracy, the vested interests wanted none of that. They laughed at Aristophenes' parody of Socrates and his tactics as a form of sophistry allowing sleaze-balls to weasel out of debts and obligations by making language itself a series of loopholes without end. Creating lawyers who could con Jesus off the cross.  Denny Crane! "Never lost a case."
Socrates might have gone into exile, but, he argued, it would have been the same thing all over again — his dialectics pissing people off. An endless vista of Apologies opened up. So, he talked himself into the death penalty (which came in record time, BTW).  He said, according to the Benjamin Jowett translation, "I would rather die having spoken after my manner, than speak in your manner and live." Then Socrates was handed the chalice of hemlock. Some say that that was the day the music died for Athens' exceptional democracy, and by the time it got handed down to we moderns it was already more sound and fury than substance.
And yet, here we are some 2500 years later, historically slap-happy, still trying to work out the broad strokes and nuances of our own Exceptional democracy — like kids playing with dynamite, as Mose Allison might say.  There's something Belén Fernández wrote in her new book Exile: Rejecting America and Finding the World that sticks with me, something about patriotism, guarding the O Say Can You See against foreign and domestic usurpers, defending the fatherland (patri) you believe in (ism) no matter how abusive and alcoholic he's become, until you can't take anymore. As Fernández observes, you can " start to view the state itself as public enemy number one," and you know something's been lost when you start seeing your country as a "state." Like Socrates.
And that got me thinking about childhood, and homeroom, and our placing our hands over our hearts and pledging our allegiance to all them stars and stripes, earnestly but mechanically. And at lunchtime, all the goombahs extorting lunches and test answers from the weaklings and nerds in that long lead-up to their grown up years of thuggery and politics, now seen as the first wake-up call in the game called Hide Your Twinkies.
And after lunch, we're taking turns reading aloud Edward Everett Hale's "The Man Without A Country," gasping as Philip Nolan exclaims, at the end of a trial for some unknown treason, "To hell with America," or something like that. And he gets sent 'up the river' for 56 years (gulp) for saying something I've felt mosta my life — and I'm a true patriot.  No, really. 
But then, at recess, as the goombahs started selling 'insurance policies', I hung out in the toilet and got to thinking, started examining myself (mentally, I mean), and began to wonder what did Nolan actually do wrong? The story doesn't really say.  Miss Johnson (at least that's how I remember her name) just said it was a parable about patriotism. But what had he done?  My little mind worked and worked to know.  Had he done some illicit machine-gunning? Was he a serial philanderer? Had he tried to kill John Lennon and all his love?  56 years! No one once asked him if he'd changed his mind, offered him some fucking parole? I discovered myself without toilet paper. Wrote on the wall: Phillip Nolan was here.
Years later, as I was growing up (still am), I discovered that Nolan's tale was loosely based on an incident that happened to Peace Democrat congressman Clement Vallandigham in 1863, who, mid-war, openly called for peace; who didn't believe the battle to end slavery was worth the price of a divided white nation. A draft had been called by Republican president Abraham Lincoln; New York's white underclass erupted in rage when it was discovered that rich people could buy their way out of serving or find a proxy, and that their jobs refining slave-labor crops (cotton and sugar) could be lost, if the Union won. Vallandigham's exhortations were regarded as treason — he was court-martialed and sent into exile. Why, Nolan was a patsy! 
Many self-examinations later, I thought: Only a Republican would send a man up for 56 years without a chance for parole and call it a parable, while only a Democrat would sue soulfully for peace, but not give a damn about the injustice of slavery or, later, what became known as "economic inequality." I didn't know what to think.  Toilet stalls don't grow on trees, and I had nowhere to hide. And it all reminded me an awful lot of the Clinton years, back when Is was Is.
It's only gotten worse since Socrates and Nolan, IMO — democracy and patriotism, I mean.  Some would argue that they are long gone, like a turkey through the corn. 9 Eleven, that was our house of cards, two decks down, freefallin' at the same time, 'oh, the humanity', and like little children who've spent all morning building and balancing our catastrophe-in-the-making we raged at physics, as if it were a demon, and looked with extreme prejudice for goats trying to escape.
As Pavlov dingled his bell, and we all broke out in a lip-doodling frenzy of 'patriotism,' Susan Sontag seemed to be the only one in the elephant room big enough to call the response for what it was: "The disconnect between last Tuesday's monstrous dose of reality and the self-righteous drivel and outright deceptions being peddled by public figures and TV commentators is startling, depressing…[and] well, unworthy of a mature democracy."  Sontag saw no need to apologize and took her hemlock exile courageously. One day we'll find the patsy in all this — probably while shaving.
Socrates died in 399 BC — but one could picture, almost 2500 years later, that Democracy has overshot its trajectory, and that Capitalism, not Asclepius, is due a salute. We have our own Cloud issues now; way more than Thirty Tyrants; our hearts and minds still filled with the soothing beats of war drums we've heard all our lives (from Korea to the 'Ghan); thinkers pilloried; a press that mocks and squawks; and instead of a well-oiled Grecian democracy ready to wrassle with Killer "Climate Change" Kowalski, we got us a 1963 Rambler needing a new transmission. Personally, I think that future pledges of allegiance should require not the hand over the heart (that's got other things to do: why burden it with the gravitas of false patriotism), but a nice big juicy middle finger that says Question Authority.  That's what a mature democracy requires. 
Think about it.
By John Kendall Hawkins
…but now I know   
That twenty centuries of stony sleep
Were vexed to nightmare by a rocking cradle,   
And what rough beast, its hour come round at last,   
Slouches towards Bethlehem to be born?
– W.B.Yeats, The Second Coming
Hive-mindedness seems to be growing — at the same time that bees are heading towards kaputzville.  DARPA's got a fix for the bees, they say.  Then again, (D)ARPA gave us the Internet, which is where the hivemind is located. On the other hand, Al Gore 'claims' to have invented the Internet.  Some people say he invented Climate Change, too. Riddle me this: If a guy can be that clever, then how come he can't win his home state in 2000, without the need to blame Nader?  And how come Watergate felon Charles "Dirty Tricks" Colson can be given back his voting rights by Jeb, but not all those Black voters?  Is there a koan in a haystack locked up in all this? Or is it all rhetorical?
End Days thinking really, isn't it?  You gotta tamp that bong shit down. Anyway, I was thinking if Christ came back to Earth today, all swaddled again, which three Wise Men would show up in Bedlamhem to report on it.  Would it be Old Schoolers like the New York Times, The Guardian, and The Washington Post? Or would it be the Upstarts — Amazon, Google, and Facebook? 
Some things are certain: they are all pushers, dealing in cut info, trying to slide you into that crystal blue persuasion dream; and they are all in it for the frankincense and myrrh, baby. And all of them are spies for the Mighty Whitey, either directly or in- in- indirectly. And God help us if He came back black: They'd up and lynch Love all over agin'. Eternal recurrence, amor fati, my ass, Mr. Nietzsche.
By John Kendall Hawkins
"Stark Raving Dark."
John Griesemer, No One Thinks About Greenland

"I loved you, I was a pentapod monster, but I loved you."
Vladamir Nabakov, Lolita
According to WebMD, Epstein-Barr Syndrome is the virus that causes monomaniacus. Nicknamed "mono," or "megalo" if you've got it bad, it's a "kissing disease," and you must be careful because, as with Herpes, that wonderful messenger god, you've probably got it and don't even know. Lots of people carry the virus but don't get sick and tired of it, onaccounta they like kissing so much.
There's all kinds of kissing. French Kissing involves passionate intensities and a little swashbuckling franca lingua, and a wink at Macron's 'still shapely' wife. With Kim Kissing, you lock your tongue behind your partner's molar until a signal occurs, say a pussy grab, at which point you try to remove the tongue — only to have it seized by totaritalian teech that plomise to nevel ret you go. There's the Putin-Putout Kiss (aka, the Assange Maneuver), where you hack into your lover's mouth with your tongue and unfurl a mickey onto their tongue in an effort to influence a presidential erection. With the Hong Kong Kiss your partner beats their tongue against your Great Wall of teeth and then breaks through like Genghis Khan — but in a good way. And there's Curtsey Kissing, just a simple bow, and a whispered offer to sell you, say, the Kaaba, at members rates, if you don't mention Istanbul.
There's even Greco-Roman kissing that involves tongues wrassling in sloppy spit, a Trump favorite from his Bruno Sammartino days — two empires reliving classical ecstasies.
Such wanton kissing brought to mind, of all things, Greenland, which has been in the Media lately. The permafrost is melting, all that sweet Greenland icing floe-ing down; the natives are muffing terrified. And it's not enough, any longer, for them to snog, nose-to-nose, in the six-month darkness, throwing empty beer bottles at the moon. Catastrophically depressed, sitting there, like Kiekegaards, in a clean, well-lighted place, juke-boxes pushing out "Quinn the Eskimo," now seeming ironic, given the melt. It couldn't get worse, but then it did, when Donald Trump created another shit storm (rather than a preferred snowstorm) by announcing he wants to buy Greenland, Jacob Riis-like tenements and all. Let's just say, not everyone jumped for joy when St. Grobian showed up instead of Quinn.
The Danes said "No," explaining Greenland wasn't theirs to sell, and wondered out loud if Trump was joking, or just mad. Trump pretended to be insulted, megalo-style, and claimed something was rotten in Copenhagen, and that — ally or not — maybe Denmark was a shithole after all. Then cancelled his plans to visit there next month. To further tease and tweak the tensions, he tweeted with an image displaying an enormous golden Trump Tower set amidst his would-be 'regentrification' project. A terrifying image that set local teeth chattering, as the tower wore no condom. Trump's interest: gold, gems, precious minerals — a titular one-percenter's notion of a silver lining to the global meltdown. Oh, what a world.
Kisses, islands, monomaniacs. It was probably a coincidence that Trump brought up Greenland, not long after Jeffrey Epstein committed suicide. There was a shock value to it that seemed usefully distracting. The h8ful media converged on Trump. What did he know about Epstein and when did he know it? Long ago, he told New York magazine, "'I've known Jeff for fifteen years. Terrific guy…He's a lot of fun to be with. It is even said that he likes beautiful women as much as I do, and many of them are on the younger side….'" But now Trump's "no fan" and he advises the pressing press to "Find out the people that went to the island." Classic deflection.
It turns out that all kinds of people have been to Little Saint James, Jeffrey's getaway retreat in the British Virgin Islands, including Bill Clinton, Stephen Hawking, Alan Dershowitz, Prince Andrew and Kevin Spacey. Clinton said he was there just minding his own 'is-ness'. Dershowitz is alleged to have had sex with an under-age girl. The Prince is a podiaphile and was there to get a sole rub. Spacey's one-card-too-many career came famously tumbling down (but not necessarily at the island). Hawking's inclusion was a shocker: I shot up, like a meerkat, as if you'd told me Ralph Nader had broken bad and was now a serial killer. But Hawking wasn't there for the sexual cosmology, but rather he'd dropped by for refreshments following his appearance at a Epstein-sponsored conference on gravity on nearby St.Thomas Island.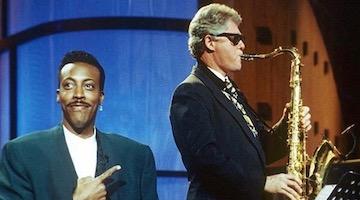 Dershowitz may have had no contact with teenage girls, but he might be guilty of something even worse — as a lawyer for the firm Kirkland and Ellis, he was able to get felony charges of sexual trafficking of underage girls, a conviction that could have imprisoned Jeffrey Epstein for life, reduced to a single count of prostitution, leading to Epstein receiving just 18-months at a minimum security "stockade." His door was unlocked. He was on daily work release to a company he set up for the work release (and tore down the day after his sentence was finished). He had five months knocked off — for good behavior. Alexander Acosta, Trump's Labor Secretary (who recently resigned), was the Florida AG who signed off on the evil deal.
Balance and fairness requires us to remember that Jeffrey Epstein was a human being, and not just a predator. New York magazine said Epstein had an 'elegant' mathematical mind. His was an "an in-depth knowledge of twenty-first-century science," according to his friend Bill Clinton, returning Epstein's regard for him as "the world's greatest politician" (swapping intellectual spit, as it were). Epstein had refined cultural taste, and was "a classically trained pianist." He gave money to causes.
Have we earned the right to be 'astonished' and breathless at the scope of the doings of satyrs like Epstein? As a culture, we have saturated ourselves in venality, since long before the Internet turned it into another crisis. There is a lurid undertow to our thinking that conveniently forgets the exploits of capitalism enforced by fascist-corporate powers. The fact is, the world is pornographic, and our desires are worked on from the gitmo.
We've had smash hit popular songs that seemed to ache for underage sex — in the Fifties, Maurice Chevalier singing "Thank Heaven for Little Girls." Gary Puckett and the Union Gap in the Sixties: "Young Girl." Later, in the Eighties, we all danced to the beat of Sting singing "Don't Stand So Close to Me," an openly urgent paen to overwrought temptation. Pop music is known for male musicians having to fend off groupies tempting their urgency.
Similarly, an impressive number of mainstream nymphet movies have been produced, including two versions of Lolita. And there have been all kinds of kiddie pageants that have clearly sought to exploit and sexulalize little girls in disturbing ways, including the pageant depicted in the film, Bad Grandpa. The outrageous scene staged in this movie is not just a film fantasy — it happens in real life — and they are images that stay with you afterward. It starts this early: The monetization of desire. These children are already broken in for Google, Amazon and Facebook algorithms.
Literature, too, is rife with images and tales of underage love. We all know about Nabakov's Lolita, and the stigma attached to reading it. That's too bad, because it's great literature written by a master of lyricism. And as provocative as the subject matter is, what is often overlooked is its poignant and sharp critique of American hypocrisy — vis-a-vis sexual mores.
This kind of literature traces its roots back to Europe. An early and, no doubt, influential forerunner to Lolita is the Marquis de Sade's Justine. One can hear in this passage the later Nabakov:
"O thou my friend! The prosperity of Crime is like unto the lightning, whose traitorous brilliancies embellish the atmosphere but for an instant, in order to hurl into death's very depths the luckless one they have dazzled."
There's more than a trace of Humbert Humbert in the sentiment.
You can wonder how all this sleaze and prurience continues to spice up the sexual olio of the world's premiere corpocracy, where the Pleasure Principle is in full swing, and the rhyme or reason of our continued existence on this planet could be summed up in the advertising slogan: De-evolution for the hell of it. Your wonderment might have you hovering and circling, like a drone, over another kind of island, near San Francisco — an Enchanted Forest, where rich men gather, like Halloween Druids, under a full moon and the watchful eyes of a stone sage Minerva. A retreat to help such men move forward. And look, Kevin Spacey is there, beckoning us, speaking into our lens, telling us this is where the power of the world comes to rejuvenate.
Bohemian Grove. An exclusive club for men, who bring their own silver spoons to the round table to feed on the golden porridge served up by young men dressed as distressed damsels, Globe Theatre style. They're all there, if we look through our romper room magic mirror — members and guests — Bill Clinton sitting knee-to-knee with Kirkland and Ellis' Ken Starr ("Is that your Is-ness, Bill?" Ken asks, "or are you just glad to see me?"); Kevin Spacey playing solitaire; Prince Andrew with his feet up on the table; Alan Dershowitz lispening to Mike Tyson's grin; Alexander Acosta picking pleas out of his mangy mane, like the Cowardly Lion. An opium-smoking Henry Kissinger playing Risk with the wispy ghost of Ho Chi Minh.
From the Mind of Minerva™, comes the voice of Walter Cronkite, like a voice transvestite. By himself now, crouched on a couch, Harvey Weinberg casts spells to complete his dis-enchantment. They are waiting for the play to begin — Teddy Bear's Picnic. A story about white males who see themselves as men, with spoons (and bears), who never have to grow out of their privileged childhoods, and who only yearn harder for mommy's liebfraumilch smile as they get older. They rule the world, and don't they know it. Humbert Humbert is said to be there to play a cameo teddy and to read from Justine.
Later, there'll be stand up comedy. This year, US attorney general, William Barr will deliver shtick, including one routine with Donald Trump — presently tying a golden shower around an old oak tree. Barr will be delivering prison limericks, political anecdotes he overheard, and pun-stories he remembers from summer camp — such as "If the Foo Shits Wear It." He's also promised to read choice excerpts from the Mueller Report. The round table of besotted Nights will chant merrily, "Diss Barr Bill. Diss Barr Bill." Oh, and when the night's over they will erupt, like little hands that gleefully laud a magic show and thrill for more. Always more.
And, by remote control, you will pull your drone back, let the laughter fade, ascend back into an ethereal oblivion, interrupted only by occasional bolts of news-spin lightning (the "traitorous brilliancies," LOL) of Men at Work extinguishing the species, all of them.
As Matt Taibbi recently points out in his new book Hate, Inc., we are divided, fractious and falling apart fast, the whole world is watching, and we are the world, we are the children. Rome was not destroyed in a day; it started by crossing taboo rubicons in ruby shoes, and ends, after all the trials and ordeals, with two men talking. Fookin' lawyers wouldn't you know it.
It's not dark yet, Bobby Dylan sings, but methinks the bard is wrong this time around. We could learn something from Greenland, instead of, say, buying it, as we look, at paradigm's end, in on the power broker's at the table, unable to tell animal from human, like in the end days of Rome, wondering what became of Boxer, our working class hero, the glue of society.
Fade to stark raving dark.
John Kendall Hawkins is an American ex-pat freelancer based in Australia. He is a former reporter for The New Bedford Standard-Times.

By John Kendall Hawkins
It is among the white youth of the world that the greatest change is taking place. It is they who are experiencing the great psychic pain of waking into consciousness to find their inherited heroes turned by events into villains. Communication and understanding between the older and younger generations of whites has entered a crisis.
Eldridge Cleaver, Soul on Ice (1968)

Nixon: "Hoffman, Hoffman's a Jew."
White House Tapes (1971)
In my early childhood days we played Cops and Robbers, or Cowboys and Indians. Things were simple, black and white. We never asked about moral issues. We never wondered if maybe the Indians had a legitimate beef (let's say genocide) and maybe the Cops should be pursuing the Cowboys instead. We watched Dragnet, Adam-12 and the FBI on TV and thought policemen were wonderful catchers of evil people; their corruptibility was beyond our fathoming and we knew (however so ruefully) that their truncheons would only be used on Black heads. We sighed, but lived on.
Then one day evil Viet Nam came on the airwaves and — wham! — like after Dylan hit the Beatles with magical obscurantism — our consciousness switched on and we turned off the TV and met in the streets to protest this hiccup in our heritage. Suddenly, it bothered us what had happened with the Native Americans — the smallpox blankets, the fire-water, and, later, the Bingo parlors. We started thinking about the robber barons and the cops they lined their pockets with to keep it safe. Wow, we thought, some cowboys have black hats, like Paladin, "A Knight without armor in a savage land," who seemed all the world like our foreign policy. 'Nam was the smoking gun. We began to play Cops and Protesters.
So that by the time we got to 1968 and the end of a decade of escalating death statistics in the MSM, having managed, along the way, to murder four leaders, at home, Black (MLK, MX) and White (JFK, RFK), we were pretty feisty and wanting change. It was a very traumatic year globally. As Nietzsche once said about 'maturity being about regaining the seriousness of a child at play', so we brought our role-playing forward into adulthood, with serious intentions, but always about actions. We practiced non-violence, which frustrated the fascists to no end, and Abbie Hoffman called it "guerilla theatre." The cops played it forward too, getting ever meaner: Call it "gorilla theatre." It was all theatre — absurd, oppressed, battlefields — and all about expression versus repression.
On July 28, 1965, President Johnson announced to the nation an escalation in the war; more troops, more draftees. Most of these draftees, between the ages of 18 and 21, had no right to vote (that came in 1971), and consequently had no say in going to Viet Nam. Blacks had only been given the right to vote in the passage of the Civil Rights Act of 1964. They could hold jobs, pay taxes, but have no say in representation and how their tax money would be spent. A bunch of Abbie Hoffmans once threw tea into Boston Harbor and started a revolution for less.
In March 1968, LBJ announced that he would not seek re-election, opening up the Democratic party to a brokered convention in Chicago later that year. After Martin Luther King, Jr. and Robert Kennedy were murdered earlier in the year, the national anxiety level and shock of gun violence, but Democrats went forward with nominating a status quo candidate — Hubert Humphrey — who seemed intent on continuing the war in 'Nam. Anti-war protesters were determined to come to Chicago and get their message heard; forces of the state, controlled by Mayor Richard Daley, cops, army and national guardsmen were equally determined to 'protect' convention delegates from swarming, angry protesters.
Two strands of leadership organized the protests in Chicago, the first was the Yippies, led by Abbie Hoffman and Jerry Rubin, and the other was an umbrella group called National Mobilization Committee to End the War in Vietnam (MOBE). In response to the city's intention to give the war protesters a daily dicking with billy clubs, horses, and the manly scrunch of leather accessories, the hairy, peaceniks decided to hold their protest in Chicago's Lincoln Park and call it, in contrast to what was happening in 'Nam, The Festival of Life. It would include bands rockin', nudity, political speeches, stand-up comedians, the nomination of a sow, named Pigasus, for the presidency — in short, a kind of staging of the smash hit musical Hair. Right on!
But things didn't go as planned (or didn't they?), as there were daily marches on the convention, resulting in myriad confrontations, and the protesters were not allowed to sleep in the park at night, which brought evening police raids to snuff out the Festival of Life. Demonstrators became more Bolsheviky™, cops got even scrunchier, bedlam even broke out inside the Democratic convention, where reporters were pushed back — why, Dan Rather even took a sucker punch for the team. "All in a day's work," he chimed, chin up, Korean War veteran smile. Facing the public, Walter Cronkite, who earlier in the decade had given us the teary-eyed bulletin on JFK's demise, now declared the violent events in Chicago as "a police state."
Well, the long and short of it is, when it was over days later, The Police State blamed the peaceniks for the mayhem (apparently, many had recklessly thrown their heads at truncheons and boots), and rounded up the alleged leaders who would be known as the Chicago 8 — MOBEsters, Yippies, and a token Black man (and Panther) named Bobby Seale (it was supposed to be Eldridge Cleaver). They were charged with conspiracy to cross state lines with the intention of inciting rioting — a felony charge, with serious prison time implications.
Abbie was quick to take exception to the word "intention," as it seemed to suggest a criminalization of "a state of mind" (a thought-dreams/guillotine kind of precedent), rather than a trial over Amendment rights — to wit, freedom of expression. What became startlingly evident during the trial was the government's loose view of "conspiracy" — essentially, "just two guys talkin'" could be seen as a criminal activity, with equal punishment later, even if only one of the guys went ahead and nuked New Jersey. The Chicago 8 were eight guys talking, and the riots were New Jersey, in our scenario. Further, the government argued, conspirators only had to have the intention of a criminal act to have committed a crime.
When the trial for conspiracy began more than a year later, presiding Judge Julius Hoffman and the defendants had friction from the outset, and they seemed to be doomed to be handed contempt of court violations for their unruliness. Abbie called the judge, "Dad." He regularly interrupted, used Yiddish pejoratives, called the judge a Nazi and "a shame" to his race. He seemed to figure that if it was going to be a trial about "state of mind" and intentions therewith, he was going to get at the judge's psyche and get him to reveal his prejudices.
Jerry Rubin, too, saw that the judge was a playable figure. As Rubin describes the scene in Larry Sloman's Steal This Dream: "I was upset with the judge because of his name. It gave Abbie the total edge. You couldn't have planned that better if a playwright had written it. Oh, the judge was great, a total Yippie judge. Whatever we planned for him, he outdid it."(186) Guerilla theatre in the justice zoo.
The pair flew paper airplanes in the courtroom, raised power-to-the-people fists at the jury, and generally addressed the judge as if he were a Marx Brothers character from Duck Soup. One day the pair came in dressed up in judge's robes (213), and when told to remove the robes, Abbie had on underneath the uniform of a police officer. They seemed to be working the judge like a classic Marx Brothers maneuver. Judge Hoffman took note of these antics, which later led to the contempt charges, but carried on tolerantly.
But when it came to Bobby Seale, the dynamic was anything but tolerant. Seale's lawyer had been unable to make the opening of the trial on time, and Judge Hoffman forced William Kunstler, the attorney for the other seven defendants, to represent him in the session (and beyond) — something Seale vociferously refused to accept. Seale interrupted the proceedings, pointed out to the judge the portraits of slave-owning presidents (Washington, Jefferson) on the wall behind him, and continuously demanded that he be allowed, in the absence of his preferred lawyer, to defend himself.
Abbie and Jerry had run a pig for president, and kidded about "eating it for breakfast," in what amounted to a biting, yet harmless criticism of capitalist excesses. Bobby Seale, on the other hand, had also given a speech about "pigs" at the Festival of Life that ran against the generally non-violent expectation of the protesters, as he was talking about police and had suggested that "barbecuing some of that pork" might be an option.
When things eventually got so hot they couldn't continue as is, the judge had Seale bound and gagged, creating a tremendous tension in the courtroom, and bringing into living color a symbol of what the State appeared to be wanting to do in Chicago anyway — gag freedom. Eventually, Seale was removed and sentenced to four years for contempt of court (eventually overturned after he'd served two years).
It was a celebrity trial — all kinds of musical, political, and literary luminaries got up on the witness stand to attest to the peaceful, non-malignant design of the Festival of Life. Judy Collins took the stand and favored the courtroom with a rendition of "Where Have All the Flowers Gone?" Norman Mailer described a meeting he had with Jerry Rubin when they discussed the planning for the Chicago events: Rubin said, "We won't do a thing. We are just going to be there and they won't be able to take it. They will smash the city themselves. They will provoke all the violence." Reverend Jesse Jackson told the court of how he's heard that "the shoot to kill order had come out" and that he had seen "shotgun shells that had overkill pellets."
In the battle of intentions, the State appeared to be losing. Chicago not only seemed prepared to encounter violence; it was aching for it. But that's not the way it turned out with Judge Hoffman presiding. The now Chicago 7 were acquitted of conspiracy. Five of the defendants — David Dellinger, Rennie Davis, Tom Hayden, Abbie Hoffman, Jerry Rubin — were found guilty of crossing state lines to incite a riot. Eventually, it was all overturned for reasons to do with Judge Hoffman's state of mind. Abbie and Jerry became celebrities in their own right, making, for them, lots of money for writing and speaking gigs.
The real undertold story of conspiracy is the one that followed a couple of years later. After Richard Nixons's White House tapes were released to the public, it became evident that the president was so rattled by war protesters that he sat down with Chief of Staff Bob Haldeman to identify and consider beating them. In it, they bring up the Chicago 7, the president identifying them as "Jews" and the discussion rounding up violent options for dealing with protesters during the coming May Day events in Washington (during which some 10, 000 people were arrested, the largest one-day round-up in US history). They crossed more than state lines. Abbie had his nose broken by a thug. Nixon should have been tried — for conspiracy.
Abbie was right to call the trial, even the era, a defense of the right to have "a state of mind." My Lai followed, and Kent State, and riot squads were restless, as Bobby Dylan would say, and the protesting got shriller, Nixon got more evil, and it looked like the whole spangling shebang was going to collapse. Now we live in a global digital panopticon, our states of mind probed by the State for "terrorist" tendencies and monetized with algorithms by monster commercial interests. Abbie wanted to laugh the Bastards out of office, but not many people are laughing anymore.
Note: The film Chicago 10, part animation, part documentary, is a useful and entertaining re-telling of events.
John Kendall Hawkins is an American expat freelancer based in Australia. He is a former reporter for The New Bedford Standard-Times.