Uncategorised
But even the president of the United States
Sometimes must have to stand naked
— Bob Dylan, "It's Alright, Ma"
SPOILER ALERT — Plot lines of the film Official Secrets revealed.
---
In May 1989, just a few months before the Berlin Wall fell, the United Kingdom upgraded its Official Secrets Act (OSA). Prime Minister Margaret Thatcher, unhappy with the way embarrassing classified information had been leaked to the press during the Falklands War, saw to it that the OSA was tightened up to such a degree that future breachers of government non-disclosure agreements would face serious jail time.
Future whistleblowers would even be limited in their legal defense, as they would be unable to discuss the confidential leak with an attorney. The OSA of 1989 was the stuff of police states.
From John F. Kennedy ("Ich bin ein Berliner") to Ronald Reagan ("Mr. Gorbachev, tear down this wall"), the Berlin Wall had been regarded by the West as the symbol of the Iron Curtain separating free democratic societies and closed totalitarian regimes controlled by Moscow.
But the OSA suggested that the West had learned the value of deep, unnecessary secrecy. As the East opened up, the West began its movement toward clamping down on privacy and freedom, through the growth of the Internet, leading to the surveillance state we have today.
In 2016, NSA whistleblower Thomas Drake, noted this catastrophic irony. Speaking before the European Parliament Committee on Civil Liberties, Justice and Home Affairs, a disillusioned Drake said,
I never imagined that the US would use the Stasi playbook as the template for its own state sponsored surveillance regime and turning not only its own citizens into virtual persons of interest, but also millions of citizens in the rest of the world.
Of course, it's not only America that's gone this route, but the UK (which has the most surveillance cameras turned on its public than anywhere else in the world, bar China), Australia, New Zealand and Canada — the Five Eyes that control world surveillance.
But long before Drake,  Chelsea Manning, Edward Snowden, and many other whistleblowers and reporters drew our attention to the secret criminal activities of our governments, in our names and against our democratic interests, in 2003, Government Communications Headquarters (GCHQ) translator and analyst Katharine Gun refused to stay silent — non-disclosure agreement or not — while her country was 'special-friended' by the US into illegally going to war against Iraq.
Daniel Ellsberg, leaker of the Pentagon Papers that detailed the active US criminality of the Vietnam War, said of Gun's leak that it was "The most extraordinary leak … of classified information that I've ever seen, and that definitely included and surpassed my own disclosure of top secret information…." Gun was trying to stop a war, not end one.
The newly released Official Secrets is a docudrama that tells the story of Katharine Gun's heroic decision to risk everything (career, marriage, freedom) to blow the whistle on Great Britain's collusion in blackmailing UN Security Council members into supporting an illegal war (the US and the UK knew there were no WMDs) against Iraq in the spring of 2003.
The US was looking for "legal" cover and was willing to use the NSA and GCHQ's extraordinary surveillance abilities to find kompromat on UN members to force them to vote Yes on war. This is war criminality — the kind the UN was established to prevent and punish.
Official Secrets is directed by Gavin Hood, whose last major film was the British surveillance thriller, Eye in the Sky (2015). The film stars Keira Knightley, MyAnna Buring, and Ralph Fiennes. It is one of those must-see films that seems almost impossible to find. Cinema runs seem limited. It's available through Apple, Amazon and Vudu, but, of course, online, your viewing is duly noted and databased.
In a flashback, very early in the film, we see Gun lounging at home watching British journalist
on TV in an with interview Prime Minister Tony Blair. Frost is pushing Blair to come clean about war path allegations that Saddam Hussein has weapons of mass destruction, and therefore represents a clear and present danger to America and her allies.
The film has very effective editing. Once the viewer is reminded of Blair's criminal collusion with the Bush administration about WMD in Iraq months before the invasion (here, Gun is heard shouting from the couch in protest of Blair's lies), we cut to the GCHQ office Gun works in and watch as she reads, for the first time, the document she will leak to the press. The scene enacts two colleagues unhappy with the contents of the document from the NSA, and the first stir of conscience for Gun.
As the memo indicates, the push to go to war with Iraq in 2003, brought in a variety of actors, including "good guys" like Colin Powell, whose favorability among the American populace — Democrats and Republicans alike — was leveraged; he was the lipstick on the flying pig. Still unaccountably, he allowed himself to be the 'credible' salesman for a criminal lie. It was a mistake that cost him the chance to be the first Black American president. (Even during the 2016 presidential election, three electors ignored the public vote and chose him for president.  Which tells you something about the electoral college process.)
There are a lot of anxious moments depicted in the film — people just not knowing what to do: friends are afraid of being caught up in a situation that could amount to treason; Gun's husband, a Kurd, is threatened with deportation; newspaper staff fear giving up a cozy relationship with the government; lawyers who tell their clients, 'I think you might be fucked.' This is what the criminals exercise and leverage. All the people who signed on to do the right thing as friends, lovers, reporters, and lawyers wring their hands in anguish, while the lying leaders sleep. And Official Secrets makes certain that the viewer knows that the prospect of war with Iraq was "historically unpopular." It's a war crime from the onset.
After Gun secrets the NSA memo out of GCHQ she calls a friend, Jasmine, an anti-war agitator, who she knows has press contacts, so that she can get the word out. This is a poignant moment, because implicit is the proposition before the viewer: What would you do? And you can feel Jasmine and Gun's terror at being caught.
Drake knows how Gun is feeling when it comes to the conflict she has between holding to her non-disclosure agreement and her responsibility to make government accountable for criminal behavior. In a 2014 interview with Federal News Network, Drake said:
Is your non-disclosure agreement, which involves what's actually classified, does that somehow trump the Constitution and First Amendment? Is secrecy, in this case the trust, even if it's misplaced where trust becomes loyalty and if you break loyalty, then you get punished, which is sort of like the Omerta pact?
How the film depicts the press is amusing, suggesting a low-level of interest in rocking the ship of state. An Observer journalist named Ed Vulliamy (played by Rhys Ifans) is already working on a lead that supports the suspicion that George W. Bush is aching for an excuse to polish off Saddam Hussein. Nobody wants to touch his copy at the then pro-war Observer. Heading back to the States to track his lead, Ed yells over his shoulder at colleagues, "We're the press, for God's sake, not a fucking PR agency for Tony Blair." Hear, hear.
Later, once the memo gets to the Observer, they muddle over what to do, as the document has come not directly from a GCHQ source but through a notorious intermediary, casting doubt upon the veracity of the memo. When they finally run the story, it is discovered by the Americans that the NSA memo uses British spelling — a secretary's mistake, it turns out — making American media nervous about picking up on the Observer's exclusive story. The story founders on the 'typo' and causes high anxiety at the paper. Even Gun begins to fear that she risked everything for nothing. Before the newscycle spits out the shaky story, Gun confesses to GCHQ: "I did it. It was me," Gun says.
After that Official Secrets moves towards Gun's legal defense. The Official Secrets Act is further spelled out. The harsh realities of the non-disclosure agreements signed amplified by the war with Iraq now underway and the indifference to Gun's plea for understanding her rationale for whistleblowing become apparent. In the end they come up with a plan: necessity defense.
The necessity defense is a difficult argument to make, because, among other things, the defendant has to make the case that their action clearly supersedes an executive decision, often built upon confidential information the defendant might not be privy to. The defense had to show that by changing the Official Secrets Act in 1989 the Thatcher administration essentially locked in immunity from criminal executive behavior in the future. Further, they could demonstrate that the invasion of Iraq, which the Blair government signed on to, was predicated upon lies (WMD). Further, the NSA memo, with its request for British intelligence-gathering on UN Security Council members, for the purposes of blackmail, left the government open to criminal responsibility for the doings in Iraq.
Gun's case was dropped by the government.
Gun's experience and its aftermath raises a couple of important questions still relevant today.  How do we strengthen whistleblower laws — internationally — so that otherwise decent, law-abiding government workers, like analyst Gun, are not forced by NDAs to become silent accessories to crime committed by their superiors. Gun was faced with having to live with doing nothing amid reports of the slaughter that Shock and Awe caused. Necessity defenses are not frivolous and should be an option for whistleblowers. Snowden would have a legitimate appeal to such a defense. Also, such trials should be held in neutral jurisdictions, such as The Hague. Real whistleblower trials are political events, not criminal.
Also, it should be noted that so much of what Snowden says in his memoir, Permanent Record, of his self-described Deep State career has the golden ring of truth to it. But his title says it all, really. The government wants to keep a permanent record — a dossier — on every person on the planet connected to the internet. (And the pressure is there to see that just about everyone is enrolled eventually.) As Snowden writes in Permanent Record:
At any time, the government could dig through the past communications of anyone it wanted to victimize in search of a crime (and everybody's communications contain evidence of something). At any point, for all perpetuity, any new administration — any future rogue head of the NSA — could just show up to work and, as easily as flicking a switch, instantly track everybody with a phone or a computer, know who they were, where they were, what they were doing with whom, and what they had ever done in the past.
This is invasive surveillance capacity almost beyond belief; totally undemocratic — and all kinds of criminal. The NSA attempt to blackmail UN security council members is, as Gun knew, an example of their potential for evil deeds that nobody can stop.
The UK is saturated with surveillance cameras aimed at its population — by one estimate there are at least 4,200,000 cameras or one for every 14 citizens. At one point you could sign on to a now-defunct service (Internet Eyes) to monitor activity online and be paid for it. It's not just the UK though — in America, there is a site where you can sign up to become an online 'deputized' set of eyes on the look-out for immigrants crossing the Mexican border. It's even worse: another service invites presumably insomniac viewers to check out the live CCTV feeds from IP cameras around the world. We are becoming the beast with seven billion eyes.
Another important point Snowden makes in Permanent Record is that his is the first generation growing up in the post-9/11 world. A world of young people that has lived with mass surveillance its entire life.  It has become normalized, institutionalized — a part of keeping Freedom 'safe from harm'. Sounds sensible, but it's scary — especially in the scoundrel patriotism it requires you to take refuge in. Thirty years after the fall of the Berlin Wall, former Stasi employees must look on at Five Eyes with penal envy. And we are in danger of getting to that point we see in another  film, The LIves of Others, portraying the sinister brutalities of the Stasi, where the logic of our imprisonment is expressed as a contradiction in our introjected daily interrogation by the algorithms of our collective demise.
Meanwhile, speaking of smoking guns, Donald J. Trump continues to dog-whistle his basket-case full of deplorable supporters as he publicly savages the whistleblower who may spell his demise and lead to his impeachment. The unleashed press hounds are baying at the blood-red moon. Ukraine, not Russia, may bring his presidency down. And it remains to be seen whether the spy is a whistleblower or merely another a politically motivated leaker.
Official Secrets is the story of a hero. Like Snowden, Drake and Manning, and all the others who brought attention, at great risk to themselves, we need — of all things — more vigilance when it comes to our freedom and privacy.  For inspiration see the film.
NOTE: excerpts from Official Secrets used as part of Fair Use act.
Book Review: Exile: Rejecting America and Finding the World by Belén Fernández
By John Kendall Hawkins
Domestically, there was the Homeland Securitization of everything…the steady erosion of civil liberties, the very liberties we were allegedly fighting to protect. The cumulative damage—the malfeasance in aggregate—was staggering to contemplate and felt entirely irreversible, and yet we were still honking our horns and flashing our lights in jubilation.
Edward Snowden,

Permanent Record
At the end of his court martial for treason, the fictional character, Lieutenant Philip Nolan, was asked if he had anything to say to the court before sentencing. Rashly, he blurted out, "Damn the United States! I wish I may never hear of the United States again!" A stunned judge granted his wish and Nolan became the legendary ex-pat described in the short story, "The Man Without A Country," by Edward Everett Hale. He was  condemned to live at sea his remaining days (56 years) without ever again being vouchsafed a single word of his beloved country. The teary tale of patriotism was required reading back in the elementary days when it was also mandatory to stand-up (no knees) for a recitation of the Pledge of Allegiance, right hand across the heart.
I thought of Nolan's plight as  I read Exile: Rejecting America and Finding the World, Belén Fernández's travelogue, beefed up with op-ed riffs on local and global politics. It's not an easy comparison; there are many complicating factors to their respective exiles — beginning with the fact that Nolan's is involuntary (he really didn't mean what he shouted), while Fernández leaves thoughtfully rejecting America. 
The other thing they have in common is that their views on American militarism are not welcome by the mainstream patriots of their times. Nolan's "treason" was that he had spoken out for peace during the Civil War, at a time when the Union was having difficulty recruiting soldiers, while Fernández openly rejects the War on Terror and its rootedness in what she regards as a drive for world domination 
It was a view her parents shared, too, ditching America for Spain, once they got past their "mercifully brief…patriotic sentiment" and came to realize that, after the bellicose presidency of G.W.Bush, "the ensuing reign of Obama—the king of drone strikes, deportations, and other damage" was just more of the same.  There was no real difference in the policies of Republicans and Democrats. Fernández's dad, once settled into Barcelona, spends time writing postcards to the warmongers of the Middle East — "Beelzebub" (Obama) and "Mephistopheles" (Netanyahu), which probably put him on at least a couple of watchlists.
Early in Exile, Fernández makes clear her disdain for American-style hypocrisy — its willingness to force its brand of Exceptionalism, an olio of neoconservative militarism married to debt-inducing neoliberalism, while allowing its own domestic policy-making to so erode confidence in the American Dream that the country entered social and economic crises, so catastrophic that citizens risked everything to elect a populist clown as president. As Fernández puts it, 
Lest folks start to view the state itself as public enemy number one, however, more convenient menaces are regularly trotted out. In addition to the usual domestic suspects—blacks, poor people, immigrants, and so on—the wider world has proved fertile terrain for the manufacture of any number of freedom-imperiling demons.
They say, 'America, love it or leave it': She left.
But it doesn't mean she doesn't love America — it's just that, like Nolan, her voice goes against the grain of the times, her tone sounding treasonous (see Susan Sontag) in the ongoing narrative of vigilance against terrorism at any cost, even if the price is compromised freedom.  Fernández grew up hearing her fair share of soldierly tales of foreign deployment in the service of setting people free.  Her grandfather "facilitated patriotic assimilation by joining the armed forces, thanks to which he was able to participate in not only the D-Day landings at Normandy but also the Korean and Vietnam wars." And she has a brother who was in Special Forces who discovered through tours in Iraq, Afghanistan and Syria that he liked to kill Arabs. 
However,  she really takes after her journalist father — she, too, writes op-eds (for Jacobin magazine) that question the motivations of various heads of state. She also seems to carry his romanticism.  He reads and re-reads Don Quixote, resulting in a memoir that took 17 years to complete. One can see how Fernández's travels seem quixotic, although, rather than chasing after windmills, she tends toward tracking down the nearest winebar, with her sidekick Polish-American friend, Amelia.
In her travels with Amelia through Lebanon, Turkey, and Italy, Fernández's quirky humor is especially effective in painting a droll picture of her locale or situation.  While hitchhiking she discovers "some damn fine people," and "Relatively rare was the occasion on which we had to leap out of a moving vehicle to thwart molestation…."  And when things did go bad that way, luckily they went comically bad, such as the time when hitchhiking near the Black Sea, they were picked up by a drunken Turkish doctor, who brought them to a remote locale, then got aggressive and chased them, "leaving us no choice but to hide dramatically beside a stream—facedown—until the coast was clear."
She has a flair for describing scenes that can seem comically self-indulgent, such as when she writes of jogging, "clad in a hideous pileup of sweaters, scarves, and socks," through the mortar-pocked streets of snowy Sarajevo which remind her of "the siege of Sarajevo in the mid-1990s."  She ends up in an apartment "not far from the bridge where the 1914 assassination of Austrian Archduke Franz Ferdinand sparked World War I," being attended to by a girl who teaches her "essential Bosnian words like 'wine,' 'spinach-and-cheese pie,' and 'catastrophe.'" It's an attractive observational humor.
Similarly, when she writes " …Italy may not always be the most helpful society on the planet—witness the boatloads of refugees left to drown in recent years by the Italian coast guard—the ubiquity of cheap wine made it a suitable spot to sit out the inaugural year of the War on Terror…,"one pictures a blogger sitting at a cafe table overlooking the sea, getting their post in for the day, while people drown — all recalling the tone of W. C. Wiliams' Landscape with the Fall of Icarus ("a splash quite unnoticed"). Her arch, but jocular attitude seems like the right approach for a disgusted, opinionated feminist turning her back on America's fatwa against the Shia world.
In Lebanon, Fernández's passions are aroused by the politics of the region and her meeting up with a Palestinian-Lebanese character named Hassan. "Amelia and I first met Hassan," she recalls, "while hitchhiking in Lebanon shortly after Israel's 2006 assault—not to be confused with Israel's 1978, 1982, 1993, or 1996 assaults, or its 22-year occupation of the southern part of the country."  She talks with Hassan and discovers that he's a kind of jack-of-all-trades — a hustler after mysterious scams, a bus guide for refugees, a blackmailer, a poor man's private eye, and a car rental agent in Tyre ("former stomping ground of Alexander the Great"). He needs a bride to obtain an American passport to visit relatives, he says, in Israel; she obliges, but eschews "the premarital virginity test." 
Fernández has significant animus for the seemingly unrepentant fascism of some Israeli policies, especially when it comes to Palestinians. She notes Israel's bombing of roads and bridges, and discusses Israel's occupation of southern Lebanon; its management by the Southern Lebanese Army (SLA). And, no doubt, Hassan's tales of loss amplify her empathetic rage: He has "lost three sisters, who had been killed by Israel, a sniper, and a car, respectively." As Fernández and Amelia accompany Hassan, and his pal Mo, on "the high-speed running of unspecified errands in the rubble of Dahiyeh, Beirut's southern suburbs," you get the feeling he's on a watchlist somewhere. And she could be playing Ilsa to Victor Laszlo's resistance fighter — drones overhead be damned, she has her own sassy hellfire.
Fernández is generally unimpressed with Lebanon. She finds the government useless: "[T]he Lebanese state doesn't do jack shit for the majority of its own population—some of whom have been known to contend with a mere two hours of government electricity per day, [and] the near-total lack of affordable health care options or other basic needs." Syrian and Palestinian refugees are marginalized. Meanwhile, the elite bronze themselves at Zaitunay Bay, content to think of Lebanon as "the Paris of the Middle East," and keen to keep the masses, and their needs, suppressed. It's a theme she will find everywhere she goes. 
Fernández arrived in Honduras a month before the 'pajama coup' of President Manuel Zelaya in the wee hours of  June 28, 2009. Zelaya was flown to Costa Rica — illegally — and, effectively, exiled from Honduras.  Zelaya had tried to introduce "a nonbinding public opinion survey" meant to gauge voter interest in future constitutional reform. The Supreme Court found the survey illegal and told Zelaya to cease. He refused and was ordered arrested for treason. But many outside observers, including the UN and the OAS, saw it as a coup — including Fernández: 
…Zelaya had stepped on the toes of the entrenched Honduran oligarchy, whose members had long ago pledged allegiance to the predatory capitalism endorsed by their benefactors in the United States. 
The elites at work again.
Months later she interviews Romeo Vásquez Velásquez, the general who'd led the coup, a fatter, more fatuous version of Captain Renault. He gets all gleeful relating how he once "saw" Jennifer Lopez; they talk the zaniness of Honduran politics; and then:
"Vásquez warned,'there will always be people who want to attain power through ways other than the proper way of being elected'—although it was not clear that he had fully thought through the implications of this line of reasoning given that he himself had just perpetrated a coup."
She listens to him liken Honduran security forces to "armed cherubs" and say that the real problem is there's "too much freedom." After the interview, he 'sees' her and says "he wouldn't mind a second wife."
In keeping with her family tradition, Fernández makes an effort to castigate the US response to the removal of Zelaya — their refusal to call it an official coup because, as Secretary of State Hillary Clinton said at the time, a coup would require cutting off US aid to Honduras.  Fernández regards this as merely protecting America's elitist friends, the same friends, she says, who were so cooperative with the CIA during the drug-trafficking Contra years. Later, under pressure, the US does cut off some aid — to works projects — while continuing to gift the security forces millions of dollars.
And on and on it goes, everywhere she goes: the wretched of the earth providing her with reminders of the salving touch of abiding humanity, while male authoritiy figures fuck up — hungry-like-a-wolf male gazes, unassisted drowning refugees, machine-gunned Kurds, Monsanto-driven farmer suicides in India…. Fernández seems to cope with it all by drinking massive amounts of cheap wine and blogging about it for Jacobin.  The turmoil she thought she left behind when she rejected America and went into "exile" follows her everywhere, as effect follows cause.
And if that weren't dismaying enough, she's got a hang-up about New York Times columnist Thomas Friedman's "imperial lapdog" justifications of bad American foreign policy.  Fernández had taken issue with his description of "bikini-clad Lebanese women leaving little to the imagination" as a vulgar deflection from the awful reality for most people there.  
But when Friedman describes himself in a column as an "environmentalist," that's when Rolling Stones journalist Matt Taibbi is trotted in for a cameo take-down:
Where does a guy whose family bulldozed 2.1 million square feet of pristine Hawaiian wilderness to put a Gap, an Old Navy, a Sears, an Abercrombie and even a motherfucking Foot Locker in paradise get off preaching to the rest of us about the need for a "Green Revolution"?
For Fernández, as with Taibbi (and so many others), the NYT columnist represents all that's wrong with the integrity of the Fourth Estate in America. Subservience in the suburbience. Never risk your comfort zone.
Belén Fernández quotes James Baldwin at the beginning of her travelogue — "perhaps home is not a place but simply an irrevocable condition" — but you wish she'd said more.  Baldwin lived for years in Paris, and wrote a lot of his best work there, 'unhappy in his skin' back in America.  Every Black man in America is an exile, the true legacy of slavery.
Fernández spends 15 years as an expat, leaving clothing markers everywhere (it comes across a bit like a Wind Song ad, frankly). Her conclusion is inconclusive, as is her idea of what 'home' has come to mean. She ends by talking about sciroccos in Puglia and "the desire to suspend one's entire existence until the wind had blown its course," making one wonder if that's not what her exile amounts to. 
She's been described as a Martha Gellhorn, but I think 'intrepid blogger' is a better description.  She does one thing that all Americans should be required to do: live in the moccasins of foreign cultures for awhile, before you remotely drone them. Exile is an excellent book to read on the plane over for a slumming summer abroad.
In holding you so near me — oh!
I couldn't help yahooing.
Bizarre?  Well, that may be, but did you know
My father was a rodeo star?
(1974)
By John Kendall Hawkins
I was musing inconsolably, a picture of Donald Trump seated with Recep Erdoğan at a Taksim Square cafe in the Golden Horn, broken heads strewn everywhere, pigeons out of control, fishmongers singing the blues — Don and Ceppi, good buds comparing notes on how much they hate journalists, demi-tasse pinkies high. "Enemies of the state," they harmonized over blood-kurdling screams.  Two men talking up what they would do and what they have done.  Leaning in, getting evil, sharing Khashoggi jokes — how much fun it was to pull MbS's chain.  Trump saying, "Mohammad got back to me and mewled, 'That wasn't very nice, Donald.'" They finished and headed toward the Red Light, Ceppi saying, Pulp Fiction style (to Donald's ticklish delight) glass-caged Red Sparrows were on display.
When my attention was diverted by further hijinks.  Hillary Clinton came rushin' in to the already turgid news cycle to announce she would be interfering in the 2020 presidential election. When last we saw Clinton, the tears of her true supporters (about a glassful) had been tossed at her and she was melting, melting  in her humiliating loss to the Cowardly Lion she had wanted to face in the finals of the Ugly Pageant of 2016.
Here she was back again for more.  Hilarious Hillary, who'd once quipped of Daffy Gadaffi's death: "We came, we saw, he died." And she laughed so hard about it they made a haw-haw porn. Appropriately, her joke derives from Caesar's famous lines, Veni, vidi, vici.  Word is, Caesar, in turn, derived his rattling words from overhearing (on his right side) two centurions talking — one snorting: I came, I sowed, I cankered. (Translation?)  Which is, of course, what happened to Democracy. Eventually, all great ideas get hospitalized with venal diseases.
And after Benghazi, nobody but nobody wanted to fuck with Hillary. Everybody on the DNC knew Bernie was being flipped, but, when the chips were down, he lacked the cajones to stick up for the "socialism" the campus kids cuddled up to so much.  (Now, they've luke-warmed on him). It was reminiscent of Al Gore, who kaputchoolated to the Spy President's son in 2000. And now we have climate change that came at us like a new Pearl Harbor.
Anyway, there she was again, back for more, taking the mickey out of the first female war veteran to run for president.  Implying that Gabbard was a Russian asset because, as the "failing" NYT reported, she'd received unsolicited support from the deplorable fringe-dwellers.  Then she accused Gabbard of wanting to run as a Third Party candidate, for the sole purpose, as an asset, of taking votes away from the Democratic nominee for president. She also took the opportunity to have a go at Green Party leader Jill Stein. When asked if she was gossing that Gabbard was a Russian Scabbard, a Clinton spokes-acolyte said, "If the nesting doll fits." What an assoh!
It got ugly from there. Likening Clinton to a bad case of food poisoning the DNC had finally Linda-Blaired out, Gabbard said that Clinton was a "personification of the rot that has sickened the Democratic Party for so long." Sweet Cheeses! Let the exorcism begin. In a tweet Gabbard went on, "It's now clear that this primary is between you and me. Don't cowardly hide behind your proxies. Join the race directly." Meow and hiss.  High stick hockey was back.
There was Clinton back to whinging about why she lost — just as sickening as having to listen to Trump continually whinge about why he won.  He won, not because he was more popular, but because he garnered more votes from the pay-to-play elites who make up the Electoral College system that Clinton adores — a system that Trump has criticized in the past. A system that seems almost arbitrary in some ways, with electors in about half the states not bound to vote according to popular outcome.  
She didn't lose because of a Third Party candidate (unless you want to count James Comey). Jill Stein didn't kill her. It wasn't Ralph Nader all over again. The presidential election shouldn't be a taste test between the less evil flavor — exclusive of all others, year after year. Why, that would be anti-trust territory. Who is not tired in consumer-driven America of hearing neo-libs say citizens have only two choices at the polls: Coke or Pepsi.  Fuck that. Some people like 7 Up. I myself don't mind a shot of Mountain Dew once in a while. If Sanders had balls, he'd run as Dr. Pepper. Wouldn't you like to be a pepper too? What do you mean two choices only? Is this America?
Clinton didn't mind working with Russians (through Christopher Steele) to dredge up kompromat on Trump's touchy feely doings in Moscow, which, no doubt, would have come in handy as an October surprise — if she's needed it against the foe she hoped to face.  But who knows? If he got through PussyGate without any serious setbacks, then maybe details of golden showers delivered from a gaggle of would-be Red Sparrows would have seen him win in a landslide.  It's a porno world.
And the MSM has not helped — taking pot shots at the candidates, just to remind us all, it seems, just how nasty, brutish and long the campaign season can be. Bernie's been blasted for speaking truth to the Press, calling his legit crit of their sensationalism Trump-like.  There's been picking at the scabby white lies of Pocahontas' past. And Joe "Jiffy Pop" Biden, who has had people come from miles around to pick his brains, endured the humiliation of being challenged about his mano-a-mano moment with Corn Pop. And Trump has been savaged so frequently in recent weeks that it's as if there's a press pool bet to see who can drive him to drunkardhood and ruin first.
There's enough ahead to worry about in the coming presidential campaign season.  Wonky databases continue to disenfranchise voters. Voting machines are a catastrophe waiting to happen.  The electoral college continues to warp the will of the people. Two-party taste-test politics continues to bore the buds.  And also it looks like the world's about to end. Just sayin'.  
And if that weren't bad enough, naughty Putin is taunting the Americans — whispering that he intends to meddle again in the presidential elections.
You could ask: Why bother?
by John Kendall Hawkins
"To dwell together in peace, to seek the truth in love, and to help one another."
– All Souls Unitarian Church Covenant

"O, what a tangled web we weave when first we practise to deceive!"
Marmion, Walter Scott
The URL Sea
Last time we saw Tim Berners-Lee (TimBL), he was weeping by the information highway, google-eyed clowns in honking cars passing by — spam, assorted junk, broken links, tossed at his feet — on their way to the URL Sea to do some phishing for ids and IDs.  Working at the CERN particle accelerator in Switzerland, St. TimBL "decided that high energy physics needed a networked hypertext system and CERN was an ideal site for the development of wide-area hypertext ideas."  See the blue 'weeping' links above? TimBL, the Unitarian-Universalist, did that for science — provided an electronic pathway to further information — and then, because he was so chuffed by its success, he served it up as the Web, for free, to the whole wide world in 1989. 
The Internet, originally a product of the US military, and around since the 60s, was virtually unknown to the general public. It was an electronic data system that allowed universities and government agencies to share information in a sometimes clunky and often inefficient fashion. The World Wide Web brought structure and efficiency, its underlying coding language (HTML) and delivery protocol (HTTP) made it easier for would-be data hosts to build websites using applications like WhatYouSeeIsWhatYouGet (WYSIWYG). 
People went to work immediately building that Library. Some people swear that they never saw so much free porn in their lives.  I myself loved 'link surfing' — each day presented a new hypertext adventure. TimBL was hailed as a Martin Luther King (think, decentralization) , Gutenberg (publishing), and, alas, Robert Oppenheimer (a Bomb that could change everything).
Thirty years later: What a mess. What was supposed to serve humanity by accelerating particles of data around the globe to create a kind of Library of Alexandria that people could help build with data, as well as borrow from at will, seems to have gone as disastrously wrong as its ancient predecessor. Flamers everywhere, advertising retinues, more and more centralization of data, the Internet as a battlefield between States which has militarized the data stream and turned it into a security risk requiring constant monitoring.  TimBL looks at the highway today and sees lovely tumbling papyrus scrolls strewn everywhere, like trash. Humanity is being served up to the appetites of Google, Amazon, and Facebook. Corporates sizing up our desires, Intels seizing on our souls.
Not only has the Web become the feeding grounds of predatory corporates and spooks, but global governments have stepped in to regulate it in a number of ways — including the UN's ITU body that seeks standards and protocols for current and emerging communivction technologies; the US release of ICANN, which some people feel intentionally releases the US from First Amendment obligations; net neutrality issues, with its pay-for-play implications; new link laws that would make a service provider legally responsible for content links — be they code of conduct issues or copyright issues; search engine manipulation; and Internet kill switches, to name some of the looming weaving of the Web….
TimBL is appalled to see such interference with his brainchild.  In addition to the strangleholds described above, the Web has brought out some of the worst facets of human personality and chased away the better angels of our nature (someone I know said they saw poor Ralph Nader loping away from it all in tears, idle tears). We have turned into trolls who burn our own bridges, clowns who never say clever, spies for the government here and spies for government there, and super-viced by yet other spooks and spies. Our Victorian unitarian TimBL has watched the Web turn into the Grand Bizarre porno hub. Enquire has become the Enquirer. Even the Lady of Shalott has not been able to handle Lancelot galloping hotly by on his way back from shovelling chivalry in France — with a feather in his cap.
Enough! cried TimBL.This is not my beautiful Internet — this is not my beautiful Web.  All that hivemindedness.  Was TimBL criminally naive to believe that his mosaic catalogue would not inevitably — you know, given the human condition — backslide toward baal once the language of the Web could be exploited?  Jeez, didn't he read Animal Farm? Freedom today, totalitarianism tomorrow. He almost went Sam Kinison (and who woulda blamed him?), after the events of 2016.  But TimBL fought back — quietly, efficiently and with a new Web paradigm for his links that he calls Solid. Like a Marvel Comics character who actually does  good, TimBL slipped into a phone booth and — made a call to D Central Eyes.
Hey, Kids, Let's Play 'Alan J. Qaeda'
Well, 1989 was a watershed year, a year of decentralization. Not only did the Berlin Wall come down, but even the Stasi trees were lopt. TimBL did his WWW thing with decentralizing hypertext.  And, of course, 1989 was the year that US-backed al Qaeda was born, an Islamic jihadist organizatiuon notoriously difficult to infiltrate and destroy, onnaccounta it was decentralized; if you whacked one mole, another popped up. Plus, they wouldn't wear uniforms on the battlefield to make it easier for American forces to atrocify, necessitating their designation as "non-state enemy combatants," meaning 'the gloves' came off, 'we make history now', and the happy double-tap regime began. Kids started playing Cowboys and al-Qaeda.
TimBL wants nothing to do with things like that.  He has begun to see that we, the netizens of the Web, have begun to be treated as if we were all al-Qaeda suspects in the War on Terror, the non-uniform diversity of our private lives an implicit threat to the State, requiring constant surveillance, by any and all means necessary, to protect the central governing forces of the Internet. In this sense, the War on Terror is a war on decentralization and privacy, and those who would reject this premise end up on watch lists. TimBL's  become a militant, but politely so. He's been pushing for a Bill of Rights that would protect our cyber activities, because the "open, neutral" vision he had of the Web 30 years ago is on life-support.
"There are people working in the lab trying to imagine how the Web could be different. How society on the Web could look different. What could happen if we give people privacy and we give people control of their data," Berners-Lee told Vanity Fair in 2018. "We are 3/5 building a whole eco-system."
TimBL essentially wants to start over again and build a new Internet — or, at least, provide an escape path for anyone who values the sacrosanctity of his or her privacy. He calls it Solid. And in many ways it's just a return to the good old days of decentralized link-to-link information. (Raise your hand if you can remember Usenet, peer-to-peer networks, the miracle of torrents —  but most importantly the personal control of your own data.) TimBL introduces the concept of the POD, a storage container, of sorts, for all of your personal data that can be held on a USB stick or stored on a Web server.
 "Think of your Solid POD as your own private website," proclaims the site. And if you go to your POD you'll see a webpage that looks like a control panel, where you manage various data and apps, while providing levels of access to others. At first look, it seems like a daunting task to move from the current iteration of the Web to TimBL's Solid configuration.  "You don't have to have any coding skills.," he told Vanity Fair. A good place to get a feel for what's being developed at Solid is to check out their forum, see what they're discussing.
But it remains an open question whether it will catch on and replace the 'empire burlesque' of monetized algorithms and government gathering of private data.  What if the government wants to infiltrate and seek out "Terror" on Solid servers? Who would switch? Might it just revert back to early version of the Web, used by only networks of academics, scientists, journalists, etc., but no real numbers of ordinary people, a kind of snobnet?  For TimBL, it's now or never: 4 billion people online, which is a critical milestone.
Researcher Steve Wilson, asks BBC News,  "Even if people could control their personal data, what does Solid do about all the data created about us behind our backs?"  Good question, and more importantly, what about all the mountains of data we've handed over to Them in our online experiences already — since, say, 1998, when Google was founded? But chances are good that conditioned responders will just lay down tracks– back to the sugar shack.
Saving Private Normal
TimBL means well, and his stated intentions are the key: He wants to restore democracy, freedom and privacy, which he sees as crucial to the Decentralization Project. Such needs are also crucial to Humanity, the evolutionary project that now sees us, as Nietzsche imagined, somewhere between beasts and supermen (or machines). So, TimBL's recovery of the Web, while wonderful, can be seen as part of a growing movement to breaking away from central control, in general, going off grid:  mesh telephony, cryptocat messaging, survival kits, even zany invisibility wear.  Again, stuff al Qaeda might do. We need to figure out how to hide from the Internet of Things, which, when you think about it, can make existence so hellish, as if the world were suddenly constructed of molecules made of eyeball atoms reporting on you from every possible angle, inside and out. Like you woke up one morning and found out that Dali was god. 
All of this — TimBL to invisibility — seems indicative of a paradigm shift, an instinctual understanding that our habitat is in collapse mode, that our greatest tool for survival — consciousness — is in peril.  There's no guarantee that people will want to be rescued. Lest we forget, despite everything, Ryan could not be coaxed into going home.
Book Review: In Defense of Julian Assange eds. Tariq Ali and Margaret Kunstler
By John Kendall Hawkins
Crikey, he gives them the shits.
Hillary once said — even before the 2016 election — "Can't we just drone him?" 
Maybe you're thinking she was just joking, like Obama that time at the White House Correspondents Dinner in 2010, when he cracked that he'd take out the Jonas Brothers with a Predator drone strike, if they got grabby with his daughters.  Laughter all around. Of course, the joke was on them, because there was no drone warfare program at the time, WINK. Obama wouldn't acknowledge the existence of such drone usage until he zapped out Anwar al-Awlaki a year later, and his 16 year-old son, Abdulrahman, shortly thereafter, both Americans. 
The MSM darn near bust a gut.  (The joke's been told over and over since. Punch line here.)
Julian Assange had warmed the Press up nearly a month earlier when he released the top secret "Collateral Murder" video into the wilds of the public imagination.  You could hear all kinds of laughter from the gunship soldiers machine-gunning away at civilians, like Chuck Connors, Russian mole, in the film Embassy.  Rat-a-tat-tat! Who knew the War on Terror could be so funny? You don't even want to call The Hague and file a report, you're laughing so hard.
And Assange followed up that gag with a bing-bang-boom fusillade:  the Afghan War Logs (all those unreported haw-haw casualties);  the Iraq War Logs had Abu rolling over in his graib, with laughter; Cablegate released all that global goss and started the Arab Spring (Tunisia 2011); the Guantánamo Files — so many Code Reds the bulls went insane; the Spy Files demonstrated "the industrialization of global mass surveillance" — what an effing hoot; the Syria Files made Assad shoot off laughing gas at the rebels; elites fell over themselves, like drunken clowns, when Assange published "the secret draft of the TransPacific Partnership (TPP)";  the Saudi Cables brought on the Curly Shuffle in Riyadh.  
You almost couldn't believe that a guy who one wag described as having had a "wild…Tom Sawyer-like" childhood could cause so much angst. Why, he even spent his early years in an honest-to-goodness Jumping Frog of Calaveras County atmosphere on a small island, called Magnetic.  How could he be found so unattractive by so many? When he moved to mainland Oz for his teen years he became John Connor, where he had his whole future in the rearview mirror, and spent his time in MILNET "hacking Pentagon generals' emails," he tells Ai WeiWei in the new collection of testimonials and supportive documents that make up In Defense of Julian Assange edited by Tariq Ali and Margaret Kunstler. 
Assange was determined to rip off the veil of the Military-Industrial Complex (MIC) from an early age.  And it's another peculiarity that he, along with fellow Aussie John Pilger, have been so successful in penetrating to the core of the fascist heart that drives American foreign policy.  Peculiar, because Australia, unlike America, has no Bill of Rights, so no fire in the belly for constitutional protections, and the press here is weak and getting weaker — thanks to the recent passage of "retention" laws that seem very much like the US Espionage Act that Assange will face in America.  Yet, Pilger, in an interview with ex-CIA operative, Duane Clarridge, has totally exposed the ugly, roaring heart of Empire. Assange has laid out its blueprints.
So much has been written, movies have been made, you could make the case that Assange's life is over-exposed, and that, ironically, this champion of personal privacy and governmental transparency, hasn't had any real alone-time for quite awhile and has been swarmed with layers of surveillance designed to break his spirit.  Outside the Ecuadorian embassy police spent years poised to pounce. Inside, there were microphones and cameras everywhere. "It was the Truman Show," Assange is quoted in the book.
In the introduction to In Defense, Nils Melzer, a special UN rapporteur on torture, declared after visiting Assange in May at Belmarsh that:
In 20 years of work with victims of war, violence and political persecution I have never seen a group of democratic States ganging up to deliberately isolate, demonize and abuse a single individual for such a long time and with so little regard for human dignity and the rule of law.
Clearly, the State intends on having the last laugh. Sadists like their punch lines.
The great virtue of In Defense is that it collects all the controversial bits and pieces of Assange's situation into one volume and mounts a fierce support for his personal and professional crises.  A cogent introduction summarizes key segments of his current entrapment in a web of intrigue. There's an impressive chronology of Wikileaks' publications, from "Collateral Murder" to the Vault 7 CIA hacking tools. You wonder aloud if he's more courageous than nuts, given the likely repercussions.  The book is broken up into four parts: Expulsion; Confinement; the Internet, Censorship, and Scientific Journalism; and the Legacy of Wikileaks and Assange. A helpful point-by-point defense to Assange's critics by Caitlin Johnstone lends focus. An appendix contains the superseding indictment for which he faces extradition to America.
Out of all that, In Defense attempts to answer three main questions: One, is Assange a terrorist or a journalist? Two, Is he a rapist?  Three, What happens next? In Defense is unusual in that it transparently addresses all the questions Assange is likely to face in a courtroom, and summons forth the kinds of witnesses and evidence that will manifest in the proceedings.  We hear from lawyers, technologists, whistleblowers, ex-spooks, radical feminists, government officials, and Assange himself — in a kind Open Source trialing of 'discovery' materials. The gambit in play appears to be that Assange is hoping to win people over to create a swelling base of support/protest once the secretive political trial begins. 
Is Assange a terrorist or a journalist?  As Tariq Ali notes in the introduction, "Assange and his colleagues made no secret of the fact that their principal subject of publication was the American Empire and its global operations."  Through his Wikileaks publishings, Assange has demonstrably established his intention to 'document' the dark agenda of Empire — and to oppose it.  In this sense, he is an activist publisher, no different than, say, Ramparts, Counterpunch or Harper's.  But the material to support his opposition is primary documentation, procured through hacks and leaks. Like Socrates the "gadfly," he wants people to make up their own minds.  He sees himself as an Ethical Hacker, and an ethical leaker. 
While he may not be able to use it as a defense tactic, WikiLeaks reminds me of the "necessity defense" that Abbie Hoffman and Amy Carter successfully argued in 1987 at their trial for criminal trespassing that followed their disruption of CIA recruiting efforts on the campus of the UMass-Amherst.  They were able to convince the court that their ostensibly 'illegal' actions were to stop bigger crimes from happening on foreign soil, in the name of Americans, who were never consulted. Thus, when a Kissinger can advise a Nixon that he doesn't see why America should sit by while a Chile elects an Allende, when there's a Duane Clarridge ready to fix the problem, people needn't accept it as the American Way. Wikileaks is necessary.
Because they control the narrative arc of "The Global War on Terror," the US government can characterize its antagonists any way it pleases.  The Americans, deeply learning from the tactics of the Viet Cong who gave them the shits in 'Nam, labelled al Qaeda (who they'd helped set up to give the Russians a taste of their own 'Nam quagmire in Afghanistan), after 9/11, "unlawful non-state enemy combatants."  They didn't wear pajamas, had no central command, and, thank Christ, were a wonderful reason to slap boots down in multiple countries in search of naked sleeper cells who might wake from their dogmatic slumbers and hate on America for her Human Freedom Project™.
Secretary of State Mike Pompeo described Julian Assange and Wikileaks, as "a hostile non-state intelligence service." This clown's description of Wikileaks could include almost any left wing publication.  Curiously, even the New York Times, a publication that has in the past spinached up its circulation by featuring stories based on Wikileaks documents, has turned on him. In April, the editorial board called him "a "foreign agent seeking to undermine the security of the United States through theft." Pompeo would like to see Assange as akin to al Qaeda, then maybe honeypot him to some remote location, and, as Bobby Dylan would say, he could be caught without a ticket to the dance "and be discovered beneath a truck."  What, you think Empire is joking?
In a column for the volume,  "The Naivete of Julian Assange," Margaret Kimberly, a senior writer for Black Agenda Report, chides Assange for his ignorance of American domestic issues.  Australia, while still dealing with aboriginal issues, has no legacy of slavery, and no Bill of Rights, and these deficits mean Assange lacks depth when it comes to American domestic political passions.  She takes issue with a Tweet exchange he had during which "he questioned the need to fight the American Civil War" and seemed "unaware that the Confederacy started the war and steadfastly refused to end slavery." 
Nevertheless, she conceded, "His willingness to show us what war looks like or how trade agreements deprive millions of people of their rights make him an ally not just as a person but an ally of the principles Americans claim to care about."
Her observations are a reminder that a lot of what's going on is a bunch of white people fighting over power, with no sign that minorities are included in the conversation or will benefit from the process. 
Is Assange a rapist?  In Defense recounts the investigatory details that keep Assange tied to the Swedish justice system.  The even reference a helpful YouTube animation that brings a viewer through the specious semi-allegations.  The fact is that Assange would not be regarded as a potential rapist for 'what happened' in any other part of the world but Sweden, as the sex was consensual. He was investigated because a woman he slept with feared an alleged faulty condom might have allowed the transmission of an STD. As Caitlin Johstone  writes in one of her mythbuster segments, "[One of the woman] admitted she had been 'railroaded by police and others around her'" to pursue Assange. She reminds: He hasn't actually been charged with anything in Sweden.
The US government doesn't mind if Sweden takes its sweet ass time with its version of due process — the longer the better; they may even be behind the delays.  Assange's instincts were right about seeking asylum in the Ecuadorian embassy to avoid extradition to the US; the chances are they were right for the same reason had he returned to Sweden.  Meantime, as long as the 'investigation' goes incomplete, he gets to be painted by the MSM as a sexually aggressive hornball who intentionally 'leaks' without regard for his partner. As he's been accused of by the CIA with his Wikileaks. This helps sell him as a predator. We got drones for that.
The breach of the servers at the DNC during the 2016 presidential campaign changed everything about how Assange has been perceived in the US. 
The Obama intelligence community successfully sold Americans — through a compliant MSM — on the still unsubstantiated claim that the Russians interfered in the 2016 presidential election, foisting Trump on us, effectively paying us back, clown for clown, for giving them Yeltsin in 1991. Obama then wanted to connect Assange to the Russian mischief by claiming he either worked directly with them to hack the DNC, or else worked indirectly by posting to Wikileaks emails received from Russians.
But understated is how irate Obama was in 2013 when Assange sent an emissary to Hong Kong to help Edward Snowden avoid being taken by the CIA, after he was outed by the mainstream media as the greatest top secrets leaker of all time. Recall that Obama's unprecedented forcing of the plane of a head of state to land in Austria when he thought Snowden was aboard. Virtually an act of war, and something that should have been condemned by the paper tiger United Nations, who exist to keep nation-states from crossing the line with each other.. 
As Kevin Gosztola points out in the book, "[T]he Obama administration realized in 2013 that it … could not prosecute Assange without exposing journalists at the Times or Washington Post to potential prosecutions for publishing classified information." But all of that changes if Assange can be re-classified as an agent of foreign powers, a kind of enemy combatant, rather than a journalist.  Thus, as Gosztola suggests, Democratic leaders started referring to him as an enemy. Joe Biden called him a "high-tech terrorist" and Diane Feinstein referred to him as "an agitator intent on damaging our government, whose policies he happens to disagree with, regardless of who gets hurt." Oh, those condomnations.
The Russian-DNC-Guccifer thing has all the hallmarks of a set-up.  Tariq Ali points out in the intro, "The finding that the DNC documents were hacked from seven separate accounts by agents of the Russian state rests on the assertions of private cybersecurity companies, CrowdStrike, Fidelis, and Mandiant, rather than of the FBI, which was denied access to the DNC server." And as Craig Murray adds, "[The Mueller Report's] identification of 'DC Leaks' and 'Guccifer 2.0' as
Russian security services is something Mueller attempts to carry off by simple assertion." You gudda pwobwem wid dat?
It is still an open question whether emails taken from the DNC servers were the result of a hack or an insider thumb drive.  Former NSA techie and whistleblower William Binney says it was a thumb.  Craig Murray reminds the reader of In Defense that he personally met the thumb.  Assange has named DNC insiders as sources for his cache.  None of them were sought out by Mueller.
The IC says the Russkies did it and that the Guccifer 2.0 WordPress site from which Assange got some emails was a Russian site.  But an email address can be acquired in seconds, a wordpress site set up in minutes, and the site populated with all kinds of blog posts — like the one that tells about how to spoof a foreign power during a hack. Even "Guccifer" has the smell of the kind of spook nomenclature that Edward Snowden describes in detail in his memoir Permanent Record — Gucci Lucifer = Guccifer.  Get it?
Who knows what kind of an environment Assange will be immersed in when he comes in chains to the Land of the Free.  The current business with Trump could make a conspiracy-fearist out of anyone. Yeltsin may not even be president by the time Assange is tried — what with whistleblowers climbing over each like a Ukrainian sitcom to put an end to corruption as we know it. You can almost see CIA analysts lounging in the coffee room, mooning over the days of yore, and wondering aloud,  "I don't see why we have to sit around and watch this country go banana republic due to the irresponsibility of its people. Who wants to whistle dixie next?"
In a world that doesn't seem capable of giving a shit any more (see climate change), we have been blessed with some people willing to do the dirty work of keeping the plumbing of the people running.  Edward Snowden, Chelsea Manning, and Julian Assange, along with the many whistleblowers, VIPS, and voices of outrage and clarity that make up this volume, could be seen as a kind of superhero group in a future comedic movie: The Empire Turns Its Back.   Assange as a Tom Sawyer figure  — radicalized — the movie poster boasting: He didn't just want a piece of the Empire, he wanted the whole Inshaallahllah.  
 Coming soon to a 'reality-based' cinema near you.
by John Kendall Hawkins
"He who fights with monsters should look to it that he himself does not become a monster; when you gaze long into the abyss, the abyss also gazes into you." 
Friedrich Nietzsche,

Beyond Good and Evil
 "Are you sure that you can skin griz?
          – line from film Jeremiah Johnson
Edward Snowden's newly-released memoir, Permanent Record,  is a timely and welcome entry into the current clown show debate on whistleblowing that has filled the Big Tent in Washington with hot air, old farts, and effete lions sitting around eating bon-bons and reading Sartre's Being and Nothingness — in French. Because, among other things, Snowden's book strives to ignite an albeit self-serving 'national conversation' on whistle-blowing, how it differs from mere leaking, and why he qualifies for the protections afforded those who cop a whistle against government abuses. Indeed, not only is he arguing his own patriotic virtues, but he is calling on government-embedded "geeks," like himself, to wake from their slogmatic dumber and pull a BogieBugle for the team. You want some liberty — or don't you?
Snowden insists there's a serious distinction between a whistleblower and a leaker.  "A 'whistleblower' … is a person who through hard experience has concluded that their life inside an institution has become incompatible with the principles developed in…the greater society outside it, to which that institution should be accountable."  Snowden has often referred to Daniel Ellsberg, distributor of the Pentagon Papers, as a model for the type. And he sees himself in this vein. He compares this to leaking, which refers to "acts of disclosure done not out of public interest but out of self-interest, or in pursuit of institutional or political aims."  As Liberty might inquire, a la Bobby Dylan, "Are you willing to risk it all or is your love in vain?"
By Snowden's rule, the recent anonymous hand-ringing CIA figure who dobbed Trump in to Congress is — well — still working and presumably, being anonymous, available for future leaks.  He sounds more akin to what Snowden describes in the book as a politically-motivated 'conscience'.  These kinds of leakers tend to be practicing tradecraft (Snowden knows; he worked for the CIA), and can be likened to what Obama did — coyly denying the existence of drone warfare, while spending Terror Tuesdays personally selecting a new joker from his "disposition matrix" card deck to 'take out'. 
Writes Snowden, "By breathlessly publicizing its drone attack on al-Aulaqi to the Washington Post and the New York Times, the Obama administration was tacitly admitting the existence of the CIA's drone program and its "disposition matrix," or kill list, both of which are officially top secret. Additionally, the government was implicitly confirming that it engaged not just in targeted assassinations, but in targeted assassinations of American citizens."  Where was the whistleblower for that? Snowden seems to wonder. This is the lawlessness he just couldn't hack any more.
But Permanent Record is far more than simply a personal appeal to be regarded as a hero in the public's eye; it is  a continuation of his alarm 'call to arms' against the serious "criminal behavior" of the US government and the catastrophic threat to democracy and privacy that its intentional actions have wrought with the rise of the surveillance state out of the ashes of 9/11.  
To recap what's at stake, according to Snowden: The American government claims ownership of the Internet. All of it.  In America. In Europe. In Asia. And some day, inshallah, on Mars. They haven't 'officially' announced it, but that's how they've decided to proceed.  They invented it. They developed its working protocols and technologies. They know more and more people will rely on access to it religiously (45% online now, according to Snowden), and they intend to keep people hooked on the sugar for life.  First mass surveillance, then mass control.  It's monetized; it's militarized; it's locked and loaded with a full metal jacket of jingly algorithms. Not a gift to the world at all, like, say, America's Deluxe Democracy for The Betterment of Mankind™. 
Such a "Frankenstein" system is a long way from the Internet Eden Snowden claims we started out with.  Far from merely describing a government on a temporary, and unconscious, surveillance sugar high, Snowden makes sure we understand to our roots that it's much worse than that. "The president's office, through the Justice Department," he notes, "had committed the original sin of secretly issuing directives that authorized mass surveillance in the wake of 9/11." Once that 9/11 serpent offered the US government that Apple of the Eyes, there was no turning back.
Snowden contends that we're handing over more and more data, more of our lives, to the control of these unknown demigods in the clouds of Cyberspace. Who are they? Fantasists — all dem Deep State geeks, like Snowden, before he broke good, and Bush and Cheney, and Rove, saying shit like,
"We're an empire now, and when we act, we create our own reality. And while you're studying that reality — judiciously, as you will — we'll act again, creating other new realities, which you can study too, and that's how things will sort out. We're history's actors . . . and you, all of you, will be left to just study what we do."
But they're not at liberty to talk about it. 
Snowden grew up reading Aesop's Fables and Bulfinch's Mythology and so is steeped in the stuff of heroes and gods and chimaera, parables and symbolism, deus ex machina, and the whole Lord of the Flies thing about wanton gods. But you can tell there's a certain class of sleazester that grubs its way into national politics alluding to the glories of our shared classical Greco-Roman past (without which we Exceptionals would be nothing), dropping names and taking names, set on seeming and beaming.  Types that make a more humble man, standing across the room seeing such seeming, cold-cock his fist as an instinct.
This God stuff really pisses Snowden off.  You can tell by the way he introduces legends and mythology to the narrative, like he's trying to speak their Dungeons and Terrorists language on some kind subtextual level that has sadistic overtones.  My favorite bit comes when he comes up with a kind of origin story for his surname. He relates the tale of Rhitta Gawr, monster king of Wales, who took on and killed every king around him, cutting off their beards before he cut off their heads, and making a hair suit out of the scalpings. "Enraged at this hubris," writes Snowden, "Arthur set off for Rhitta Gawr," they fought and Arthur split Gawr in half with a sword on a mountain called …Snaw Dun…." 
Rhitta Gawr would seem to represent American imperialism, and King Arthur would be the hubris-sapping champion of virtue and noble causes.  Snowden is no Arthur, but he is invoking his spirit, his courage, his determination to slay tyranny, while at the same time making it clear he's just an ordinary patriot. In fact, Snowden goes through some pains to recount his Mayflower heritage, family military history, and civil service roots.  Sometimes he goes too far in the telling, as when he recounts the demise of his paternal ancestor who died at the hands of the British during the Revolution. He adds, seemingly gratuitously, "(Legend has it that they killed their POWs by forcing them to eat gruel laced with ground glass.)" Funny way to recall a relative's death.
Speaking of family history, his most bizarre, and perhaps most revealing, tidbit of personal history is his mention of the founding of Fort Meade, Maryland, the location of NSA headquarters.  The land on which the fort is built was once owned by Snowden ancestors. It was a plantation, but they "abolished their family's practice of slavery, freeing their two hundred African slaves nearly a full century before the Civil War." But there's some strange, residual resentment. Snowden claims that the plantation was "expropriated" by the federal government to house Civil War soldiers.  Head-spinning stuff.
Snowden emphasizes throughout his memoir that the terrorist-seeking, "surveillance capitalist" state is striving to have a permanent record of every human on the planet. All information going back perhaps even to birth — every phone call, email, text message, every trip taken, every purchase, medical data, service records, and a digital link to everyone you know. A permanent record without probable cause, waiting for you to be accused of a crime to be named later. 
Snowden worked in a system in which, "[E]veryone's information was being collected, which was tantamount to a government threat: If you ever get out of line, we'll use your private life against you." The government as goombah. A dystopia similar to the film Minority Report, but with algorithms, machine thoughts, replacing pre-cogs, cutting out the middle-seer.
Snowden spends considerable time reiterating his revelations of the specific secret government surveillance programs he shared with journalists beginning in 2013.  He had originally intended to contact the New York Times, he writes, but remembered how they had quashed James Risen and Eric Lichtblau's important piece on the Bush administration's illegal wireless surveillance of Americans (revealed later by Snowden as NSA's StellarWind program) that "well might have changed the course of the 2004 election" had it run.  The story ran more than a year later to shrugs.
Instead, a second Bush/Cheney term allowed the NSA and CIA to expand their global surveillance programs. Snowden revealed further evidence of extra-Constitutional data-gathering. He writes:  
"PRISM enabled the NSA to routinely collect data from Microsoft, Yahoo!,Google, Facebook, Paltalk, YouTube, Skype, AOL, and Apple, including email, photos, video and audio chats, Web-browsing content, search engine queries, and all other data stored on their clouds, transforming the companies into witting co-conspirators."
These criminal co-conspirators, above the law themselves, were treating everyone else as potential terrorists, sleeping cells of personality disorder that could erupt at any moment and reveal themselves by "keyword" Google searches for trouble, such as "Mr. Google, what ever happened to the photo and DNA evidence of bin Laden's Abbottabad execution?"
There were also a couple of monitor-level programs that were mind-boggling and disgusting, such as XKeyscore, "which is perhaps best understood as a search engine that lets an analyst search through all the records of your life." Everything. Anybody. Anywhere.  While you were getting over the shock of that, Snowden pointed to another salubrious practice — LOVEINT — "in which analysts used the agency's programs to surveil their current and former lovers along with objects of more casual affection—reading their emails, listening in on their phone calls, and stalking them online."  Creepy, and probably rife, considering that no one's likely to get prosecuted, "because you can't exactly convict someone of abusing your secret system of mass surveillance if you refuse to admit the existence of the system itself." Secret men's business.  High five!
Most everyone agrees that 9/11 was the catalyst for the political acceptance of mass surveillance. The pollies conned the People into buying into the "limited" and "temporary" need for security-enhancing privacy annihilation hastened the transformation from intensified vigilance to full-blown panopticon intrusiveness.  Snowden sees two main causes: one, the transfer of paper data to digital data, stored online; and, two, contracting. To get around agency hiring limits set by Congress, contractors, not counted as employees, were hired. Snowden calls them Homo Contractus. He was one. Said to be working for, say, Dell computers, but actually doing the work of the NSA or CIA. 
Homo Contractus has become an evolving species of worker for the US government.  It is perhaps the most dangerous development of all, given that such contractors are the eyes and ears of the surveillance machine.  Suddenly, agency analysts go into early 'retirement', only to put up a quick WordPress business website and hang a shingle out as 'consultants', who then get re-hired by the system they retired from.  When such consultants start working overseas, in places like the UAE, they are mercenaries who can hack away as they please. They bring their skill sets, toolsets, and target lists with them; the US government cannot stop them. It was no surprise to see The Intercept, a publication for whistleblowing revelations, being hacked from the UAE.
Permanent Record is an excellent read.  There is a sub-text to the narrative that makes you wonder whether he is pulling your leg at times. And a few seemingly contrived anecdotes, such as the tiny play child Snowden has with mom about the need for taxes; another childhood exchange with mom where she explains the immorality of opening his sister's mail; and, the chapter, "From the Diaries of Lindsay Mills," which are, ostensibly, entries from his girlfriend's (now his wife) diary. I was surprised that this chapter didn't qualify her for a byline.  But also, the section was so finely manicured that it felt like an inauthentic voice. In a novel that's okay.
I have questions.  Like why the push to get people to use the Tor Project?  Snowden says that setting up a Tor server can help others in highly controlled societies (he cites Iran) reach out beyond their cyberwall.  But the safety of Tor use was debunked years ago, when it was revealed US spooks had cracked its encryption and were on to users setting up bridge servers.  But a bigger mystery to me was the inclusion of a reference to the bin Laden execution of 2011: "a dialysis patient shot point-blank in the embrace of his multiple wives in their lavish compound."  By all other reports, bin Laden was shot dead from the stairwell, there were no "multiple wives" embracing him, and the compound was anything but "lavish."
Responses to what Snowden did in 2013 seem to locate his actions somewhere between heroic and traitorous.  One political analyst, however, believes he's beyond such easy good or evil. David P. Fidler, editor of The Snowden Reader, writes in his introduction to the volume that Snowden's actions "disrupted the trajectory of political affairs and forced democratic societies to reconsider fundamental questions, the answers to which help define the quality of the democratic experience." This is, of course, vague, and maybe entirely unhelpful, but does give an idea of his reception of the intellectuals who may influence his fate, should he ever return to America.
The picture Snowden paints in Permanent Record is so bleak and — like he alludes to — such a fall from more relatively edenic times that there seems little hope.  However, he does, like Julian Assange, assert that one place to start fighting back is for people to implement encryption — sealing their documents and using a safe VPN.  Snowden notes, with hope, "The year 2016 was a landmark in tech history, the first year since the invention of the Internet that more Web traffic was encrypted than unencrypted." In addition, many other people, like Tim Berners-Lee, the inventor of the World Wide Web, are pushing for the adoption of John Perry Barlow's "A Declaration of the Independence of Cyberspace." Meh.  But the truth is, more radical actions may be required.
Personally, I believe we need a more benign, colossal catastrophe. For instance, I was reading the other day about the chances of Earth being spit in the eye by a giant hot loogie from the Sun. I read:
"In today's electrically dependent modern world, a similar scale solar storm could have catastrophic consequences. Auroras damage electrical power grids and may contribute to the erosion of oil and gas pipelines. They can disrupt GPS satellites and disturb or even completely black out radio communication on Earth."
Such damage, if it lasted long enough, might just be the best goddamned thing to happen to this planet in a long time. We'd talk more, face to face.  
by John Kendall Hawkins
You could be forgiven (but what's the fun in that), if you were to think.  Looking at Jacques-Louis David's neoclassical painting The Death of Socrates, you could believe you're seeing Socrates giving the bird to democracy and demanding that Crito give him the goddamned chalice full of hemlock, and get out of the way.  There are different versions of what Socrates' last words were. I thought I heard, "Tell my neighbor, Asclepius, he's a cock, and I owe him one."  But I'd just come off reading The Clouds, Aristophanes' take-down of Socrates, so I could be wrong. All we know is that he was in a foul mood. 
And he had a right to be.  All those Ralph Nader-like years of public service, including a distinguished stint as a soldier during the Peloponnesian War, only to be told, like most any vet, that things had changed since his return from his tour of duty. The Thirty Tyrants banned him from speaking in public — his dialectics had a tendency to undermine their reign of terror. He never spoke out against the oligarchy directly, but he did continue to be a "gadfly" for every horse's arse who came his way: encouraging each to think for himself. When democracy was restored, his influence was not forgotten by governmental leaders.
Socrates famously quipped, "The unexamined life is not worth living."  Socrates' Golden Rule is built into the foundation of American democracy. A life that is not examined is one controlled by the thoughts of others — open to deception, propaganda, and subterfuge.  An examined life is built into Thomas Jefferson's notion of a "well-informed public." Augmented by the mission of the Fourth Estate, which is to keep the citizenry informed and the Bastards Honest, well-informed, self-examining people are in control of their representative government. Ideally. But there are a lot of Ee-yores, assorted horses arses, and serial ignoramuses out there.  Even a Ralph Nader can only do so much.
Ultimately, Socrates was convicted on charges of impiety and corruption of youth. Only the latter really matters (nobody really gave a good goddamn about the other one).  At the core of his dialectical philosophy was the directive: Question Authority.  He demonstrated his method daily, followed around Athens by youthful acolytes, as he took the mickey out of the Know-It-Alls in power. Even in the heyday of democracy, the vested interests wanted none of that. They laughed at Aristophenes' parody of Socrates and his tactics as a form of sophistry allowing sleaze-balls to weasel out of debts and obligations by making language itself a series of loopholes without end. Creating lawyers who could con Jesus off the cross.  Denny Crane! "Never lost a case."
Socrates might have gone into exile, but, he argued, it would have been the same thing all over again — his dialectics pissing people off. An endless vista of Apologies opened up. So, he talked himself into the death penalty (which came in record time, BTW).  He said, according to the Benjamin Jowett translation, "I would rather die having spoken after my manner, than speak in your manner and live." Then Socrates was handed the chalice of hemlock. Some say that that was the day the music died for Athens' exceptional democracy, and by the time it got handed down to we moderns it was already more sound and fury than substance.
And yet, here we are some 2500 years later, historically slap-happy, still trying to work out the broad strokes and nuances of our own Exceptional democracy — like kids playing with dynamite, as Mose Allison might say.  There's something Belén Fernández wrote in her new book Exile: Rejecting America and Finding the World that sticks with me, something about patriotism, guarding the O Say Can You See against foreign and domestic usurpers, defending the fatherland (patri) you believe in (ism) no matter how abusive and alcoholic he's become, until you can't take anymore. As Fernández observes, you can " start to view the state itself as public enemy number one," and you know something's been lost when you start seeing your country as a "state." Like Socrates.
And that got me thinking about childhood, and homeroom, and our placing our hands over our hearts and pledging our allegiance to all them stars and stripes, earnestly but mechanically. And at lunchtime, all the goombahs extorting lunches and test answers from the weaklings and nerds in that long lead-up to their grown up years of thuggery and politics, now seen as the first wake-up call in the game called Hide Your Twinkies.
And after lunch, we're taking turns reading aloud Edward Everett Hale's "The Man Without A Country," gasping as Philip Nolan exclaims, at the end of a trial for some unknown treason, "To hell with America," or something like that. And he gets sent 'up the river' for 56 years (gulp) for saying something I've felt mosta my life — and I'm a true patriot.  No, really. 
But then, at recess, as the goombahs started selling 'insurance policies', I hung out in the toilet and got to thinking, started examining myself (mentally, I mean), and began to wonder what did Nolan actually do wrong? The story doesn't really say.  Miss Johnson (at least that's how I remember her name) just said it was a parable about patriotism. But what had he done?  My little mind worked and worked to know.  Had he done some illicit machine-gunning? Was he a serial philanderer? Had he tried to kill John Lennon and all his love?  56 years! No one once asked him if he'd changed his mind, offered him some fucking parole? I discovered myself without toilet paper. Wrote on the wall: Phillip Nolan was here.
Years later, as I was growing up (still am), I discovered that Nolan's tale was loosely based on an incident that happened to Peace Democrat congressman Clement Vallandigham in 1863, who, mid-war, openly called for peace; who didn't believe the battle to end slavery was worth the price of a divided white nation. A draft had been called by Republican president Abraham Lincoln; New York's white underclass erupted in rage when it was discovered that rich people could buy their way out of serving or find a proxy, and that their jobs refining slave-labor crops (cotton and sugar) could be lost, if the Union won. Vallandigham's exhortations were regarded as treason — he was court-martialed and sent into exile. Why, Nolan was a patsy! 
Many self-examinations later, I thought: Only a Republican would send a man up for 56 years without a chance for parole and call it a parable, while only a Democrat would sue soulfully for peace, but not give a damn about the injustice of slavery or, later, what became known as "economic inequality." I didn't know what to think.  Toilet stalls don't grow on trees, and I had nowhere to hide. And it all reminded me an awful lot of the Clinton years, back when Is was Is.
It's only gotten worse since Socrates and Nolan, IMO — democracy and patriotism, I mean.  Some would argue that they are long gone, like a turkey through the corn. 9 Eleven, that was our house of cards, two decks down, freefallin' at the same time, 'oh, the humanity', and like little children who've spent all morning building and balancing our catastrophe-in-the-making we raged at physics, as if it were a demon, and looked with extreme prejudice for goats trying to escape.
As Pavlov dingled his bell, and we all broke out in a lip-doodling frenzy of 'patriotism,' Susan Sontag seemed to be the only one in the elephant room big enough to call the response for what it was: "The disconnect between last Tuesday's monstrous dose of reality and the self-righteous drivel and outright deceptions being peddled by public figures and TV commentators is startling, depressing…[and] well, unworthy of a mature democracy."  Sontag saw no need to apologize and took her hemlock exile courageously. One day we'll find the patsy in all this — probably while shaving.
Socrates died in 399 BC — but one could picture, almost 2500 years later, that Democracy has overshot its trajectory, and that Capitalism, not Asclepius, is due a salute. We have our own Cloud issues now; way more than Thirty Tyrants; our hearts and minds still filled with the soothing beats of war drums we've heard all our lives (from Korea to the 'Ghan); thinkers pilloried; a press that mocks and squawks; and instead of a well-oiled Grecian democracy ready to wrassle with Killer "Climate Change" Kowalski, we got us a 1963 Rambler needing a new transmission. Personally, I think that future pledges of allegiance should require not the hand over the heart (that's got other things to do: why burden it with the gravitas of false patriotism), but a nice big juicy middle finger that says Question Authority.  That's what a mature democracy requires. 
Think about it.
By John Kendall Hawkins
"Stark Raving Dark."
John Griesemer, No One Thinks About Greenland

"I loved you, I was a pentapod monster, but I loved you."
Vladamir Nabakov, Lolita
According to WebMD, Epstein-Barr Syndrome is the virus that causes monomaniacus. Nicknamed "mono," or "megalo" if you've got it bad, it's a "kissing disease," and you must be careful because, as with Herpes, that wonderful messenger god, you've probably got it and don't even know. Lots of people carry the virus but don't get sick and tired of it, onaccounta they like kissing so much.
There's all kinds of kissing. French Kissing involves passionate intensities and a little swashbuckling franca lingua, and a wink at Macron's 'still shapely' wife. With Kim Kissing, you lock your tongue behind your partner's molar until a signal occurs, say a pussy grab, at which point you try to remove the tongue — only to have it seized by totaritalian teech that plomise to nevel ret you go. There's the Putin-Putout Kiss (aka, the Assange Maneuver), where you hack into your lover's mouth with your tongue and unfurl a mickey onto their tongue in an effort to influence a presidential erection. With the Hong Kong Kiss your partner beats their tongue against your Great Wall of teeth and then breaks through like Genghis Khan — but in a good way. And there's Curtsey Kissing, just a simple bow, and a whispered offer to sell you, say, the Kaaba, at members rates, if you don't mention Istanbul.
There's even Greco-Roman kissing that involves tongues wrassling in sloppy spit, a Trump favorite from his Bruno Sammartino days — two empires reliving classical ecstasies.
Such wanton kissing brought to mind, of all things, Greenland, which has been in the Media lately. The permafrost is melting, all that sweet Greenland icing floe-ing down; the natives are muffing terrified. And it's not enough, any longer, for them to snog, nose-to-nose, in the six-month darkness, throwing empty beer bottles at the moon. Catastrophically depressed, sitting there, like Kiekegaards, in a clean, well-lighted place, juke-boxes pushing out "Quinn the Eskimo," now seeming ironic, given the melt. It couldn't get worse, but then it did, when Donald Trump created another shit storm (rather than a preferred snowstorm) by announcing he wants to buy Greenland, Jacob Riis-like tenements and all. Let's just say, not everyone jumped for joy when St. Grobian showed up instead of Quinn.
The Danes said "No," explaining Greenland wasn't theirs to sell, and wondered out loud if Trump was joking, or just mad. Trump pretended to be insulted, megalo-style, and claimed something was rotten in Copenhagen, and that — ally or not — maybe Denmark was a shithole after all. Then cancelled his plans to visit there next month. To further tease and tweak the tensions, he tweeted with an image displaying an enormous golden Trump Tower set amidst his would-be 'regentrification' project. A terrifying image that set local teeth chattering, as the tower wore no condom. Trump's interest: gold, gems, precious minerals — a titular one-percenter's notion of a silver lining to the global meltdown. Oh, what a world.
Kisses, islands, monomaniacs. It was probably a coincidence that Trump brought up Greenland, not long after Jeffrey Epstein committed suicide. There was a shock value to it that seemed usefully distracting. The h8ful media converged on Trump. What did he know about Epstein and when did he know it? Long ago, he told New York magazine, "'I've known Jeff for fifteen years. Terrific guy…He's a lot of fun to be with. It is even said that he likes beautiful women as much as I do, and many of them are on the younger side….'" But now Trump's "no fan" and he advises the pressing press to "Find out the people that went to the island." Classic deflection.
It turns out that all kinds of people have been to Little Saint James, Jeffrey's getaway retreat in the British Virgin Islands, including Bill Clinton, Stephen Hawking, Alan Dershowitz, Prince Andrew and Kevin Spacey. Clinton said he was there just minding his own 'is-ness'. Dershowitz is alleged to have had sex with an under-age girl. The Prince is a podiaphile and was there to get a sole rub. Spacey's one-card-too-many career came famously tumbling down (but not necessarily at the island). Hawking's inclusion was a shocker: I shot up, like a meerkat, as if you'd told me Ralph Nader had broken bad and was now a serial killer. But Hawking wasn't there for the sexual cosmology, but rather he'd dropped by for refreshments following his appearance at a Epstein-sponsored conference on gravity on nearby St.Thomas Island.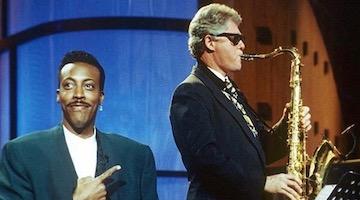 Dershowitz may have had no contact with teenage girls, but he might be guilty of something even worse — as a lawyer for the firm Kirkland and Ellis, he was able to get felony charges of sexual trafficking of underage girls, a conviction that could have imprisoned Jeffrey Epstein for life, reduced to a single count of prostitution, leading to Epstein receiving just 18-months at a minimum security "stockade." His door was unlocked. He was on daily work release to a company he set up for the work release (and tore down the day after his sentence was finished). He had five months knocked off — for good behavior. Alexander Acosta, Trump's Labor Secretary (who recently resigned), was the Florida AG who signed off on the evil deal.
Balance and fairness requires us to remember that Jeffrey Epstein was a human being, and not just a predator. New York magazine said Epstein had an 'elegant' mathematical mind. His was an "an in-depth knowledge of twenty-first-century science," according to his friend Bill Clinton, returning Epstein's regard for him as "the world's greatest politician" (swapping intellectual spit, as it were). Epstein had refined cultural taste, and was "a classically trained pianist." He gave money to causes.
Have we earned the right to be 'astonished' and breathless at the scope of the doings of satyrs like Epstein? As a culture, we have saturated ourselves in venality, since long before the Internet turned it into another crisis. There is a lurid undertow to our thinking that conveniently forgets the exploits of capitalism enforced by fascist-corporate powers. The fact is, the world is pornographic, and our desires are worked on from the gitmo.
We've had smash hit popular songs that seemed to ache for underage sex — in the Fifties, Maurice Chevalier singing "Thank Heaven for Little Girls." Gary Puckett and the Union Gap in the Sixties: "Young Girl." Later, in the Eighties, we all danced to the beat of Sting singing "Don't Stand So Close to Me," an openly urgent paen to overwrought temptation. Pop music is known for male musicians having to fend off groupies tempting their urgency.
Similarly, an impressive number of mainstream nymphet movies have been produced, including two versions of Lolita. And there have been all kinds of kiddie pageants that have clearly sought to exploit and sexulalize little girls in disturbing ways, including the pageant depicted in the film, Bad Grandpa. The outrageous scene staged in this movie is not just a film fantasy — it happens in real life — and they are images that stay with you afterward. It starts this early: The monetization of desire. These children are already broken in for Google, Amazon and Facebook algorithms.
Literature, too, is rife with images and tales of underage love. We all know about Nabakov's Lolita, and the stigma attached to reading it. That's too bad, because it's great literature written by a master of lyricism. And as provocative as the subject matter is, what is often overlooked is its poignant and sharp critique of American hypocrisy — vis-a-vis sexual mores.
This kind of literature traces its roots back to Europe. An early and, no doubt, influential forerunner to Lolita is the Marquis de Sade's Justine. One can hear in this passage the later Nabakov:
"O thou my friend! The prosperity of Crime is like unto the lightning, whose traitorous brilliancies embellish the atmosphere but for an instant, in order to hurl into death's very depths the luckless one they have dazzled."
There's more than a trace of Humbert Humbert in the sentiment.
You can wonder how all this sleaze and prurience continues to spice up the sexual olio of the world's premiere corpocracy, where the Pleasure Principle is in full swing, and the rhyme or reason of our continued existence on this planet could be summed up in the advertising slogan: De-evolution for the hell of it. Your wonderment might have you hovering and circling, like a drone, over another kind of island, near San Francisco — an Enchanted Forest, where rich men gather, like Halloween Druids, under a full moon and the watchful eyes of a stone sage Minerva. A retreat to help such men move forward. And look, Kevin Spacey is there, beckoning us, speaking into our lens, telling us this is where the power of the world comes to rejuvenate.
Bohemian Grove. An exclusive club for men, who bring their own silver spoons to the round table to feed on the golden porridge served up by young men dressed as distressed damsels, Globe Theatre style. They're all there, if we look through our romper room magic mirror — members and guests — Bill Clinton sitting knee-to-knee with Kirkland and Ellis' Ken Starr ("Is that your Is-ness, Bill?" Ken asks, "or are you just glad to see me?"); Kevin Spacey playing solitaire; Prince Andrew with his feet up on the table; Alan Dershowitz lispening to Mike Tyson's grin; Alexander Acosta picking pleas out of his mangy mane, like the Cowardly Lion. An opium-smoking Henry Kissinger playing Risk with the wispy ghost of Ho Chi Minh.
From the Mind of Minerva™, comes the voice of Walter Cronkite, like a voice transvestite. By himself now, crouched on a couch, Harvey Weinberg casts spells to complete his dis-enchantment. They are waiting for the play to begin — Teddy Bear's Picnic. A story about white males who see themselves as men, with spoons (and bears), who never have to grow out of their privileged childhoods, and who only yearn harder for mommy's liebfraumilch smile as they get older. They rule the world, and don't they know it. Humbert Humbert is said to be there to play a cameo teddy and to read from Justine.
Later, there'll be stand up comedy. This year, US attorney general, William Barr will deliver shtick, including one routine with Donald Trump — presently tying a golden shower around an old oak tree. Barr will be delivering prison limericks, political anecdotes he overheard, and pun-stories he remembers from summer camp — such as "If the Foo Shits Wear It." He's also promised to read choice excerpts from the Mueller Report. The round table of besotted Nights will chant merrily, "Diss Barr Bill. Diss Barr Bill." Oh, and when the night's over they will erupt, like little hands that gleefully laud a magic show and thrill for more. Always more.
And, by remote control, you will pull your drone back, let the laughter fade, ascend back into an ethereal oblivion, interrupted only by occasional bolts of news-spin lightning (the "traitorous brilliancies," LOL) of Men at Work extinguishing the species, all of them.
As Matt Taibbi recently points out in his new book Hate, Inc., we are divided, fractious and falling apart fast, the whole world is watching, and we are the world, we are the children. Rome was not destroyed in a day; it started by crossing taboo rubicons in ruby shoes, and ends, after all the trials and ordeals, with two men talking. Fookin' lawyers wouldn't you know it.
It's not dark yet, Bobby Dylan sings, but methinks the bard is wrong this time around. We could learn something from Greenland, instead of, say, buying it, as we look, at paradigm's end, in on the power broker's at the table, unable to tell animal from human, like in the end days of Rome, wondering what became of Boxer, our working class hero, the glue of society.
Fade to stark raving dark.
John Kendall Hawkins is an American ex-pat freelancer based in Australia. He is a former reporter for The New Bedford Standard-Times.