Monthly Archives:
December 2017
Little Kisses by Lloyd Schwartz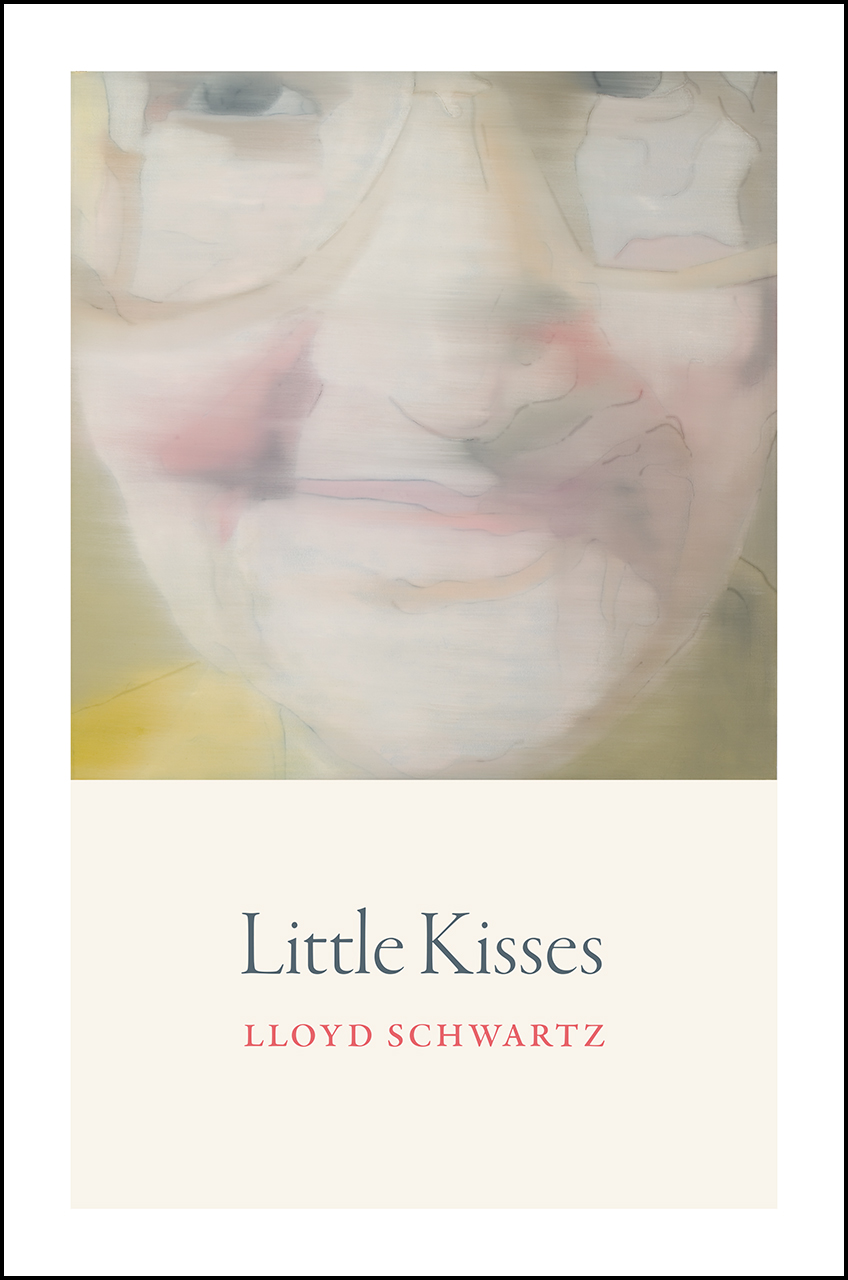 s the old truism goes, you should never judge a book by its cover—except, of course, that's not always quite true. With Lloyd Schwartz's marvelous new collection of poems, Little Kisses(University of Chicago Press, 2017), it turns out that the covers are an excellent place to begin an appreciation of the book's contents. On the front cover, Ida, the poet's mother, smiles out like the muse of humanity. Schwartz gazes out from the back cover. Their eye beams seemingly conjoin, à la Donne's "The Ecstasy," and between them they loom a tapestry of some thirty poems that share a common vision of loss, resilience, joy, memory, and buoyant wit.
Structurally, Little Kisses is broken up into five parts, each with a set of poems loosely guided by thematic apertures, although there is a degree of layering and overlapping. In consecutive order, the parts or sets roughly correspond to the following subjects: loss, forgetting and remembrance; art; word play; translations; and, what might be regarded as a miscellany of 'transit' poems. It is a loose, but effective, integration of form and function.
"Little Kisses," the title poem, is the volume's tone-setter. Divided into five "movements" with distinct tempos, it posits a musical arc that flows, ultimately, from the death-in-life of Alzheimer's disease toward a kind full-flowered remembrance of things past. The closing "movement" is a wonderfully uplifting allegro—a brilliant day of clarity and fond remembrance for Ida, who laughs with her son ("even if he has a beard") and concludes with her singing the 1926 classic tune, "Gimme A Little Kiss." But the moment ends on the tonic note: "I may not remember tomorrow." The Here-and-Now for mother and son will have to do. It is a tonic note that is carried throughout the book, as the poet tackles loneliness and loss (relationships, memories, loved ones), while applying to the pain the salve of humor, elegance and simple eloquence. There may be sad forgetting going on, but not by the poet, although, as the volume makes clear, even he faces the unknown threat of what tomorrow may bring. In this first poem, Schwartz establishes what comes to be a leit motif: what we lose in time. It is only in a subsequent poem that he gives a poet's response to such loss. In "Goldring," which deals with the loss of precious things and forgetting dear people in time, Schwartz writes: "Maybe he should write his own poem—the way other poets turn their losses into poems." This is, of course, exactly what the poet of this volume is doing. And it all signifies a kind of grace, an amor fati that is partly Orphic, partly Nietzschean in scope, and always humane-all-so-humane in approach and technique.
As noted, "Little Kisses," moves from four musical moments of tragic forgetting to one final ecstatic moment of remembrance, and the poem embodies the spirit and concerns of the volume. Reinforcing the theme, the other two poems of the first set, "My Other Grandmother" and "Lost Causes," also emphasize what's left behind in memory and the partial recovery by the poet's act of remembering. In "My Other Grandmother," the poet wonders about his father's intentional and inexplicable act of forgetting his own mother ("Did he know when she had died?"), and he carefully builds up an abstract image of what his grandmother may have looked like ("She could be an actress / in a peasant costume"), based upon an old photograph, and he waits until the last line to imbue her with life when he utters her name—"Leah." Similarly, the poet is the remembering agent of "Lost Causes," where he catalogs the cherished qualities of a humanitarian cousin who has died prematurely of cancer.
As if to escape the pressure exerted by the tragic invocations of the first set, Schwartz shifts to art—music, poetry, painting—in the second set of poems. "The Conductor" is a straightforward romp depicting the physicality of music-making, and contains some delightful images of the maestro at work:
	He's all dippy knees, flappy elbows, and floppy wrists.
	Not Bernstein's exaggerated self-immolation, but
	little, complicated pantomimes: steering a car down a
	winding road, patting down a mud pie, robbing eggs
	from a bird's nest (and carrying them carefully away), flinging
	tinsel on a Christmas tree.
In "Goldring," the subject is the art of writing. The poem has a playful Raymond Carver-esque feel to it, and reads like a stripped-down narrative with lots of open, lyrical spaces. The poem's narrator has lost a precious betrothal ring after having worn it for thirty years (the relationship has long ago ended). He rather drolly invokes John Donne's "Valediction Forbidding Mourning" to signify the ring's importance, and then follows that up by essentially remembering every precious object he has lost over the years (and eventually found), turning it into a kind of valediction encouraging mourning. It is once again the poet's alchemy at work: turning loss into lines and stanzas of verse. The narrator closes by asking, rhetorically, after such inspiration: what will happen if the ring is found? Loss may be lead, but it rings like gold to the poet. "City of Dreams" reels along breezily enough, moving back and forth between music and painting, but then becomes suddenly serious with the allusion to Verdi's Dies Irae(Day of Wrath), whereupon the dreamer of the poem is seized by a condition:
	Suddenly whatever is pressing me from outside
		begins to press against me from within: pushing

		against my chest, up into my skull—as if I had
		swallowed the darkness and it was trying to get out.
His pressure leads to a kind of Nietzschean epiphany, when the dreamer echoes the Zarathustrian realization:
 					. . . The World 
		is deep—deeper than Day had thought.
It is another moment—this time universal—of loss recovered.
Speaking of Nietzsche, he once remarked that philosophers should strive to recover a sense of "the seriousness of the child at play." With the seven poems that make up the third part of Little Kisses, Schwartz, a subtle poet-philosopher, attempts to do just that. There are the direct word plays of "Crossword," which is a kind of comical, triadic dialectical movement of two competing "theses" ending in joyous synthesis (verily, a "you complete me" moment, if ever there was one). That's followed by "Six Words," which, again, is a dialectical dance of words—this time between absolute and conditional terms—which reads like a six-card Monty routine, where the flim-flam artist (the poet) demonstrates that you can't always keep track of the Queen of Hearts (the poem's meaning) no matter how hard you try. "Dreams," a song meant to be included with a friend's stage play, sings like a Roy Orbison number. In his Notes section at the end of the book, Schwartz writes that "Is Light Enough?," "Howl," "La Valse," and "New Name" are externally-invited word-play poems, with the last of these poems being the volume's one traditional rhyming poem, a Bouts-Rimés sonnet. These poems demonstrate Schwartz's witty playfulness at its best.
Part four contains a set of translated or otherwise adapted poems that introduce Brazilian, Iranian and Ukrainian flavors to the mix. This section returns to the theme of death and contains poems with some of the volume's most visually arresting images. "Two Mineiro Poems on the Love of Death" contains this lovely, if gruesome, image of death:
					. . . It lives in me like a wild animal
	who seems domesticated yet remains
	master
                   —and tenderly chews me to bits.
With "Victor Neborak: Fish," the poet brings in what might be thought of as Ukrainian black humor with his description of a bulging-eyed fish that is about to be gutted, fried and eaten. It is grim in detail, but not so grim that the poet can't slip in a little Donne again and some metaphysical comedy:
        no fish is an island
        this involves all of us, all of us
If the fourth part of the volume is steeped in the playful handling of death, it ends on a note of resurrection and resilient joy. "Zayande ('The One Who Gives Life')" depicts an Iranian river which flows down from the snow-capped Zagros mountains and ends not in the sea but the desert ("its ocean is the desert") and, as the poem's title translates, "brings life" to the wasteland. It is a beautifully flowing and lyrically rich poem, which offsets all the death that has come before (and which may yet come again: another reprieve), and reminds us that "the World is deep." It also resonates back to "Little Kisses," as the river Zayande could be a metaphor for memory itself: where there was a desert of forgetfulness there springs new life seasonally. This motif is effectively generated by the animistic consciousness that literally moves the river with purpose and fate—out of loss, remembrance.
The fifth and final part of the volume consists of a kind of miscellany of pieces mostly centered on places and people in transition, bouncing in and out of others' lives. "If You Lived Here You'd Be Home Now" is based on a collage painting by Gerry Bergstein, and Schwartz has cataloged the images he sees on the canvas and reduced the line-spacing to build his own block of word collage—to great effect. "Small Airport in Brazil" signals a commentary on the cost of nights spent alone, especially by constant travelers, who are separated by precious others:
	They'll cost something, these nights.
	Everything costs something when you have to make

	your way through the world—
	even if you're not new to the idea,

	or just beginning
	not to be new to it.
The remaining poems also reflect on the transitory and people in transition. "To My Oldest Friend, Whose Silence Is Like Death" is largely self-explanatory in the poem, even if the reason for the silence is far from it. "Two Plays" re-introduces rings as the symbolic objects they are and their potential for ironic and treacherous uses.
The volume closes with "Jerry Garcia in a Somerville Parking Lot," which asserts a close encounter with strangers, who may or may not want to do the poet harm. It is a well-chosen bookend to "Little Kisses," and, once again, demonstrates the poet's concern with the fragility of life, of how significant loss can occur at any moment and change everything—and yet, one goes on. In the poem's dark parking lot, in what may be a tough neighborhood, two strangers lean against the car next to the poet's, smoking cigarettes. Fear and dread fill the poet, but, instead of threatening him, they mistake him for the Grateful Dead's Jerry Garcia (which recalls Ida's reference to the poet's beard in "Little Kisses") and tell him an awful innocuous joke—and he escapes "gratefully alive" and unharmed. The important thing here is that, despite his fear, the poet moves forward in the darkness. The Jerry Garcia reference also brings to mind the Grateful Dead's last big hit, "Touch of Gray," with its signature emphatic refrain line, "I will survive."
But returning to "Little Kisses" again, where Ida closes by noting the uncertainty of tomorrow, "Jerry Garcia" also closes with a "temporary reprieve" from loss, with the implicit understanding that tomorrow could be different: Maybe next time the strangers won't just be passing on bad puns. The two poems, the one closest to the front cover image of Ida and the other closest to the back cover image of Schwartz, suggest a kind of Dante-esque journey imagined in the volume. It is a welcome journey, for both the poet and the reader, one imbued with amor fati, and, consequently, despite the sometimes-grave themes, is uplifting and joyous. All in all, it is a very lively mix of poems that move with subtlety, wisdom, good humor, and sly erudition. There is great musicality here and lots of rewarding lyrical surprises.