trump
Covid Day Women #16 and #20
a nod (and a wink) to Dylan
by John Hawkins
Well, they'll stone ya when you're trying to be so lewd
They'll stone ya just a-like they said they would
They'll stone ya when you're grabbing pussy moan
Then they'll stone ya when you're down there all alone
But I would not feel so all alone
Pencey, Pompey, pass the friggin bone
Well, they'll stone ya for your Putin horsey porn
They'll stone ya coz you're silver spoony born
They'll stone ya when you're stompin' on the law
They'll stone ya when you calling Liz a squaw
But I would not feel so all alone
Amy, Pencey, pass the freakin bone
They'll stone ya when you call Barry's birth a fable
They'll stone ya when your hands are under table
They'll stone ya when you're tryin' to make a buck
They'll stone ya and then they'll say, "Fell off the truck"
Tell ya what, I would not feel so all alone
Barrsy, Amy, pass the bleepin bone
Well, they'll stone ya and say that it's the end
Then they'll stone ya and then they'll come back again
They'll stone ya when you see your face at Rushmore
They'll stone ya when you're eyes go on a tush tour
Yes, but I would not feel so all alone
Gina, Barrsy, pass the righteous bone
Well, they'll stone ya when you break it off with Xi
They'll stone ya when you end Détent-étente-a-tee   
They'll stone ya and then say that you're not brave
They'll stone ya and then they'll do the Wave
But I would not feel so all alone
Betsy, Gina, pass the mother bone
Well, they'll stone ya for fumblin' the Carona
They'll stone ya for your integumentary toner
They'll stone ya coz you don't think Black Lives Matter
They'll stone ya when your rich friends eat and scatter
Yet I would not feel so all alone
Pencey, Betsy, pass the buzzy bone
Well, we're passing out the pocket Wagner tubas
electric Bob kazoos and German lugers
Democracy's gone all bunker mental
Cause 'ceptionalism's lost its flashy dental
I would not feel so all alone
Even Roger Roger must get Stoned
Alright!  (begins to fade, like a marching band already passed)
By John Kendall Hawkins
In June 1972, Martha Mitchell, wife of US Attorney General John Mitchell, was brutally beaten in her hotel room by a thug hired by her husband to watch over her and prevent her from communicating to the public.  Steve King, the man who beat her black-and-blue and had a psychiatrist stick a needle filled with tranquilizer in her cheeky ass, never faced criminal charges, and went on to become, 45 years later, the current ambassador to the Czech Republic — a Trump appointee unanimously approved  by Congress in 2017. Isn't that a kick in the head.
Martha Mitchell was beaten and sedated because she was on the phone to a reporter — Helen Thomas, then of UPI. The phone was literally ripped out of her hand, and out of the wall, the last thing Thomas heard before the disconnection was: "You just get away."  Martha, known as "The Mouth of the South" or as "a real life Scarlett O'Hara" who frankly didn't give a damn what people thought of her opinions was a "sensation" on the DC social circuit and in the Press. Newspapers could always count on her to come up with some kind of colorful anecdote.  But President Richard Nixon hated her and insisted that her husband, John, find a way to muzzle her.
Just after their arrest, Martha had seen one of the Watergate burglars on TV — Jim McCord, a former chauffeur for her children — and was calling Helen Thomas to blow the whistle. Had she been able to communicate to Thomas what she knew of McCord, and his connections to the Nixon administration, the president's re-election campaign may have unraveled and a second term quashed. Instead, a skittish press, and an unsupportive husband, accepted the premise that she was an unstable drunk having a breakdown. People turned on her, and, as she poignantly describes in an Episode 1 Dick Cavett interview, she was never able to trust people again — a devastating proposition for someone so extraverted. Further, during the interview, she expressed fear of being shot.
All of this powerful political and psychological tension is captured beautifully in the excellent new Epix series, Slow Burn. The series purports to relate important details overlooked or left out of the master narrative about Watergate and the Nixon resignation that has evolved over the decades.  Martha Mitchell rarely features in any 'commemoration' of the Nixon take-down. And yet, Episode 1 of the series makes an excellent case for how the press betrayed this insider.  More importantly, producer Leon Neyfakh, makes sure we understand that there are valuable parallels between the Nixon era and the Trump circus. We now remember Steve King, but Roger Stone, who just received a 40-month sentence for lying to Congress and witness-tampering, also makes a cameo appearance to describe Nixon's cover-up.
In an interesting symbiotic development, the Epix Slow Burn series is a visual enactment of the prize-winning podcast series by the same name presented by Slate magazine.  I watched Episode 1 "Martha", which is free at the site, then went back and listened to the podcast, which is about a half-hour shorter than the podcast. There are extras added obviously, such as the interview with Stone, and the visual stimulation allows us to see key unfamiliar figures, like Martha, and helps conjure up a photo album of the time.  Other figures, like Dick Cavett, Mike Douglas, and old friend Tom Snyder fill in the rough edges of the era. Going back and forth between TV and podcasts, as episodes stream, seems like a winning combination.
The series promises to deliver more of these vignettes and subplots that are off the beaten narrative track — up next is "Losing Ground," forgotten Congressman Wright Patman's attempt — way before the Watergate Hearings made Sam Ervin a household name — to force the conspirators to come clean on the machinations behind the break-in and cover-up. Patman, as Chair of the House Banking and Currency Committee, followed the money long before Mark Felt ("Deep Throat"),  a disgruntled FBI deputy director, famously insisted that WaPo's Woodward and Bernstein do the same.  Though House Democrats at the time had the numbers to force Watergate conspirators to testify, they declined, and, in a farcical slap at the system, Patman held a hearing and interrogated four empty chairs. Compelling stuff.
Other episodes include "A Very Successful Cover-up," "Lie Detectors," True Believers," "Rabbit Holes," "Saturday Night," and "Going South." Again, all of the podcasts (and transcripts) are available for free online, either at Slate, or other easy-to-find places.
Producer Leon Neyfakh closes out the Episode 1 podcast with this note to the listener, which equally applied to the viewer:
In 1975, Martha got sick. She died the following year of cancer. Afterward, her hometown erected a bust in her honor. And on the bust's granite pedestal, there was an inscription: "Ye shall know the truth and the truth shall make you free." In a letter to the editor printed in her local paper in Arkansas, someone wrote, "She was a kind of a dippy saint, a dizzy yet right on the target woman to whom freedom and honesty meant more than protocol and appropriate behavior."
No doubt, she would have had something choice to say about Trump's appointment of her attacker to the ambassadorship of the Czech Republic. Fuck Steve King.
And fuck Roger Stone, who Jack Anderson summed up so well so many years ago, if he thinks he'll get away with a Trump pardon. Bring it over, Frankie Pentangeli. Get in line, DJ.
By John Kendall Hawkins
…[M]en should be treated in such a way that there's no fear of their seeking revenge…
-Nicolai Machiavelli, "Mixed Principalities," The Prince
"You come at the king, you bess not miss."
– Omar, The Wire
Donald Trump sat with Recep "Cepi" Erdoğan
At a nez à nez cafe in the Golden Horn,
Fog over the Straits, fishmongers singing the blues,
Their little secret summit all over the news.
They gazed, they preened, with their fincan pinkies high,
Just two kings talking — evil eye to evil eye.
DJ flashed his grand, bizarre smile and sneered, "The Press
Is all over me and the country is a mess.
I fear some Lefty might impeach me with a gun
And I'll find myself leaping in front of my son."
Cepi laughed at that, and said, "Well, listen to this:
When they did Khashoggi — Oh, I watched with such bliss.
I jail journos, make them watch Midnight Express for fun."
"Enemas of the State," they harmonized, "Undone."
They laughed about Idlib, and al-Baghdadi's face
When he realized there was no escape cave in place.
Trump said, "He died like a dog and blew up the kids —
I lied," he smirked, "Abbottabads Abbottobids."
Cepi howled, "Badda bing bang boom — politics!
Nothing wrong with you a good hamamin' can't fix."
The garson brought the tab and DJ made a lunge —
He didn't want Cepi to think he was a sponge.
But Cepi was quick and snatched the bill and snickered,
"Your money's no good here," said Cepi; they bickered.
"CNN's the most phoney fakes of news," Trump said.
"What about the Kurds?" he mimicked the talking head.
At that, Cepi gave the garson a second glance,
Took back his tip, and made the poor waiter's eyes dance.
The two good buds arose, Cepi winked and they strolled.
DJ said, "Mohammad got back to me to scold.
He said sweetly, 'Donald, that wasn't very nice'
To treat my discombobulations as a vice.
What if I'd made fun of your curtsy and laughed
To your face?'" Cepi cracked up, thinking DJ gaffed.
"There goes that Trump tower in Riyadh," howled Cepi,
And slapped DJ on the back, dancing, two-steppy.
DJ morosely followed his Turkish delight.
They strode through the twists and turns of the Taksim night,
Down cobblestone streets, Cepi, like Virgil, leading —
Well, maybe if Virgil had had no real breeding —
And on the buds strode, ignoring the blood-kurdling screams,
Cepi saying, "Journos" (wink) "at work in their dreams."
DJ pictured Maddow, with new bounce in his bones —
In fact, all the press! — and their screams became his koans.
After their purgatorial conversation,
They came to the Red Light D and knew their station.
They passed pervs, punks, pimps and glassed-in storefront cages
With dancing mannequin-like Beatrices of all ages.
Cepi said to DJ, "Go have a pussy grab."
Trump groaned, "No can do, Cepi, my hand's in rehab.
Until after November." They left Paradise,
With the promise of pleasure still twinkling their eyes,
They giggled and goosed all the way to Taksim Square —
Pigeons out of control, broken heads strewn everywhere,
Tumbleweed tabloids, Atatürk's pic on the ground,
Tarzan-like prayer calls, cab honks, and no other sound.
"DJ, you gotta break a few eggheads" (puffing)
"If you wanna make an Om." But Trump's mind was muffing
Back in the Red Light D. Cepi said, "Listen to this,
If you want to kill the king, you'd better not miss."
By John Kendall Hawkins
They're selling postcards of the hanging
They're painting the passports brown
The beauty parlor is filled with sailors
The circus is in town.
Bob Dylan, "Desolation Row"
They walked in from the Left.
They walked in from the Right.
They walked in to Judge.
They walked in to Fight.
They came to determine the fate of two hushed words: "Joe Biden."
Officially, the articles (the charges) are: abuse of power and obstruction of Congress. Remove "Joe Biden" from the telephone transcript of a July 25 phone call between President Donald Trump and the top Ukrainian servant of the people, President Volodymyr Zelensky, and there is no impeachment. Just quid pro quo. Same ol' same 'ol Congressmen know like a second pledge of allegiance.
Me and some buddies gathered and walked to see the show, sneaking into the peanut gallery, the nosebleed seats, the democratic bleachers — call it what you will — by a means I won't reveal, except to say it reminded me of my pre-pube years weaseling my way into Boston Garden to watch Espo and Bobby Orr. But our expectations were decidedly lowered at angel heights in the Senate chamber. Lots of hoi-polloi had beat us to it and the heights were full-throated and busy-lipped. Everyone shared an opinion on the buzz below.
I heard one guy say Congress (urged on by the MSM) was thinking of making the theatrics a seasonal event, including some kind of playoff format. The guy in front of me, who looked an awful lot like Christopher Steele, was laying down a bet on impeachment with Irish booky Paddy Power, which had Trump heavily favored to beat the rap (1/50).
All eyes were on Nancy Pelosi, as she struggled with eyelineritis and handed out cheap black plastic pens, and mumbled something about freedom, while pointing to a hashtag. Souvenirs of the iconic House member walk to the Senate could be had at recess some aide announced.
There was lots of talk of multiple impeachments.  Soften him up now for the October Surprise impeachment on tax evasion or murder or OCD-ing it on the emollients (manus manum lavat, goes the law).  Something criminal, instead of just political.  It's a better viewer experience.
There was even talk from the raucous bluebird section, toodling and tweeting about retroactive impeachments, which brings to mind quantum and new Dr. Who episodes and all kinds of evil scenarios.  George Washington smoked pot, he owned slaves — he not only crossed the Delaware; he may have crossed The Line a few times. (And what's with the wooden teeth? Did he go to a dentist who used a woodpecker to drill away his cavities?) We could finish Nixon's impeachment; and impeach Gerald Ford for criminally pardoning him. We could impeach Clinton again for setting back philosophy studies 1000 years with his trippy "is/is" comment. We could impeach Reagan for his trickle down voodoo that handed us all over to the 1%.  On it goes…
The attractive woman wearing a tight Che T-shirt (I love women in uniform) over my shoulder was cackling about how McConnell, Graham, and Alan Dershowitz were seemingly threatening to tit-for-tat impeach into the foreseeable future. One mud pie tosses the other.
The intent of the current articles of impeachment seem to be a Democrat party punishment for Trump's presumed (and still anything but proven) theft, with Russia, of the 2016 presidential election, as well as a determination to prevent him from the presumed stealing of the next one — with the help of the comedian in charge of Ukraine, who must miss his IMDB 7.2 rating by now.
Leroi Jones, my bud to the left, who is seething and looking like his head might explode, points out that the Democrat impeachment is just a clown show; they could have impeached Trump on all kinds of awful things, like the Suleimani hit, but they don't want to, as they don't want to take that abuse of power away from a future president of their own.  Elizabeth Warren might be called upon early to prove her mettle ala Hillary "Hanson" Clinton, because she's a woman (but it depends on what your definition of is is). LeRoi showed me an ear piece in the Black Agenda Report, to which I have in the past donated, to bolster his rap.
An announcement said that multiple whistleblowers had now come forward to bring down Trump, as their lawyer vowed he would do in 2017.  "Maybe some of them could be put in storage for later impeachments," the wise guy a couple of seats over snarked.
Then it was loudly announced that Ken Starr and Alan Dershowitz would be coming to Trump's rescue.  Dershowitz successfully defended a serial pedo in Flo-ho; Starr went after Clinton and his affair with an intern and brutalized him, but devastated her life. When Starr didn't get far uncovering evil in the Clintons' Arkansas real estate dealings, he went after sex charges and their cover-up led to impeachment.  (FTR, Clinton got re-elected anyway — by a landslide, sorta,)
A reaction shot on the big screen showed Monica Lewisnsky outraged by Starr's appointment. It must have brought back impeachment tears, said the guy directly behind me. "Are you f—ing kidding me," she reportedly gaped.
The conservatives are calling it a "coup cabal," or, at least, that's how Tom Fitton of Judicial Watch refers to the impeachment.  JW's too right wing for me, although I had to doff my Patriots cap when they FOIA-ed the Obama administration conversations with film director Katherine Bigelow and screenwriter Mark Boal. JW produced documentation that the film was a propaganda flick (with classified information about the Abbottabad raid shared with the filmmakers) originally intended to be released in October 2012, just before the presidential election, but moved back as a result of criticism. Bigelow called the film "journalistic," but it did seem to contain supernatural elements.
My buddy Dave, a few seats over to the right, was sardonically gassing, "The Joe Biden speech where he crowed about firing the investigator of Burisma in exchange for Ukraine receiving 1 billion dollars. Big Joe Biden tough on corruption. What he didn't say is that no further investigations of Burisma have taken place since that firing.  Nicely played, Joe." I was hoping not to hear about Burisma, the Day-Glo elephant in a very dark room.  Next thing, someone might be inappropriately referencing Coffee Black, the "ex" CIA executive on the Burisma board.
But then I was distracted from distraction by more distraction, as T.S. Eliot would say, and, in front of me, a dazzling blonde with an iPhone was viewing an interview with Kelley Anne Conway, threatening, in that aggressively passive tone that makes you just crazy, that if the Demos called witnesses, the Repugs would do the same, and they had better be careful of what they wished for, because they would call up Hunter Biden, and, her tone seemed to imply, go to town on him.
Mikey, three seats to the left of me, who hates everything, muttered, "After reading the Horowitz Report, what I want to know is whether we aren't interfering in our own elections."
"Bakhtin and the mischief of the carnivalesque," whined an intellectual to my right somewhere; my fist cocked instinctively, and I was ready to roll out the barrel should his chin require it. He went on, like a taunt, "The problem with the deep state isn't whether it exists or not — Ike and Snowden have said it does, and the nice middle class man from PBS, Bill Moyers, has chipped in too — but whether it'll just turn out to be one more shallow enterprise run by machines…."
I got edgy, and we had to leave. I wasn't sure I cared about Democracy anymore. I looked down at the proceedings one last time. And saw a vision not so splendid in the dark and now intimate room. More walking, and Lady Liberty, er, re-oriented on a dining table, all the little festival legislators pigging out in the pork barrel. Hmph.
When I got home, I didn't bother getting off my high horse. Fuck it. Patriots, too, get tired blowing the warning trumpet and having nobody respond. They just want to hit the hay and settle into the nightmare democracy has become. And sleep the sleep of sleep.
No somnambulism allowed.
-30-
DJ and Cepi Share a Joint
"I like oil. They got oil. We want their oil,"
Smirked DJ over at Cepi Tayyip.
"But what about the Kurds, who were so loyal?"
Came a hostile, high-pitched Fourth Estate quip.
"I promised Cepi he can have his way,
If we can have the oil." Cepi smiled up.
The Pressman looked at Trump with such dismay,
and then he saw Cepi — all buttercup.
"But, sir, what you're talking is a war crime,
And, frankly, it smells of more quid pro quo,"
Quoth our Camelot, another press corp mime.
To which DJ snapped, "Why, that's a low blow!"
Cepi T snickered, he'd seen this stuff before —
The press all ruffled by such minor things,
War and oil and crime — and those Kurds what's more!
After all, it's what real politiks brings.
He recalled Donald's invasion letter:
"Don't be a tough guy" and "Don't be a fool."
The Press had turned it into a fetter
When Cepi replied, "I won't be your fool."
"Yo, Apprentice prez, what about the Daesh bizz,"
Snarked some intrepid "turd" from NBC.
"Depends on what you def of ISIS is,"
Retortled DJ Trump, without mercy.
Cepi moons, "There's nothing wrong with DJ
That a steamy hamamin' wouldn't fix."
Though an old poet, I felt oy vey!
(I thought of Midnight Express and Hands Blix.)
In a reverie, Cepi thought he heard,
"A Trump Tower along the Bosphorus,
between the two grand mosques preferred,
and just catering to the prosperous."
The press keeps pressing for lit'ral meaning
(something they never bothered 'bout before)
like asking a rooster why he's preening,
A totally worthless thankless chore.
-John Kendall Hawkins
SOURCES
https://www.theguardian.com/us-news/2019/nov/13/donald-trump-syria-oil-us-troops-isis-turkey
https://www.theguardian.com/us-news/2019/nov/08/secure-the-oil-trumps-syria-strategy-leaves-pentagon-perplexed
By John Kendall Hawkins
…but now I know   
That twenty centuries of stony sleep
Were vexed to nightmare by a rocking cradle,   
And what rough beast, its hour come round at last,   
Slouches towards Bethlehem to be born?
– W.B.Yeats, The Second Coming
Hive-mindedness seems to be growing — at the same time that bees are heading towards kaputzville.  DARPA's got a fix for the bees, they say.  Then again, (D)ARPA gave us the Internet, which is where the hivemind is located. On the other hand, Al Gore 'claims' to have invented the Internet.  Some people say he invented Climate Change, too. Riddle me this: If a guy can be that clever, then how come he can't win his home state in 2000, without the need to blame Nader?  And how come Watergate felon Charles "Dirty Tricks" Colson can be given back his voting rights by Jeb, but not all those Black voters?  Is there a koan in a haystack locked up in all this? Or is it all rhetorical?
End Days thinking really, isn't it?  You gotta tamp that bong shit down. Anyway, I was thinking if Christ came back to Earth today, all swaddled again, which three Wise Men would show up in Bedlamhem to report on it.  Would it be Old Schoolers like the New York Times, The Guardian, and The Washington Post? Or would it be the Upstarts — Amazon, Google, and Facebook? 
Some things are certain: they are all pushers, dealing in cut info, trying to slide you into that crystal blue persuasion dream; and they are all in it for the frankincense and myrrh, baby. And all of them are spies for the Mighty Whitey, either directly or in- in- indirectly. And God help us if He came back black: They'd up and lynch Love all over agin'. Eternal recurrence, amor fati, my ass, Mr. Nietzsche.
By John Kendall Hawkins
"Stark Raving Dark."
John Griesemer, No One Thinks About Greenland

"I loved you, I was a pentapod monster, but I loved you."
Vladamir Nabakov, Lolita
According to WebMD, Epstein-Barr Syndrome is the virus that causes monomaniacus. Nicknamed "mono," or "megalo" if you've got it bad, it's a "kissing disease," and you must be careful because, as with Herpes, that wonderful messenger god, you've probably got it and don't even know. Lots of people carry the virus but don't get sick and tired of it, onaccounta they like kissing so much.
There's all kinds of kissing. French Kissing involves passionate intensities and a little swashbuckling franca lingua, and a wink at Macron's 'still shapely' wife. With Kim Kissing, you lock your tongue behind your partner's molar until a signal occurs, say a pussy grab, at which point you try to remove the tongue — only to have it seized by totaritalian teech that plomise to nevel ret you go. There's the Putin-Putout Kiss (aka, the Assange Maneuver), where you hack into your lover's mouth with your tongue and unfurl a mickey onto their tongue in an effort to influence a presidential erection. With the Hong Kong Kiss your partner beats their tongue against your Great Wall of teeth and then breaks through like Genghis Khan — but in a good way. And there's Curtsey Kissing, just a simple bow, and a whispered offer to sell you, say, the Kaaba, at members rates, if you don't mention Istanbul.
There's even Greco-Roman kissing that involves tongues wrassling in sloppy spit, a Trump favorite from his Bruno Sammartino days — two empires reliving classical ecstasies.
Such wanton kissing brought to mind, of all things, Greenland, which has been in the Media lately. The permafrost is melting, all that sweet Greenland icing floe-ing down; the natives are muffing terrified. And it's not enough, any longer, for them to snog, nose-to-nose, in the six-month darkness, throwing empty beer bottles at the moon. Catastrophically depressed, sitting there, like Kiekegaards, in a clean, well-lighted place, juke-boxes pushing out "Quinn the Eskimo," now seeming ironic, given the melt. It couldn't get worse, but then it did, when Donald Trump created another shit storm (rather than a preferred snowstorm) by announcing he wants to buy Greenland, Jacob Riis-like tenements and all. Let's just say, not everyone jumped for joy when St. Grobian showed up instead of Quinn.
The Danes said "No," explaining Greenland wasn't theirs to sell, and wondered out loud if Trump was joking, or just mad. Trump pretended to be insulted, megalo-style, and claimed something was rotten in Copenhagen, and that — ally or not — maybe Denmark was a shithole after all. Then cancelled his plans to visit there next month. To further tease and tweak the tensions, he tweeted with an image displaying an enormous golden Trump Tower set amidst his would-be 'regentrification' project. A terrifying image that set local teeth chattering, as the tower wore no condom. Trump's interest: gold, gems, precious minerals — a titular one-percenter's notion of a silver lining to the global meltdown. Oh, what a world.
Kisses, islands, monomaniacs. It was probably a coincidence that Trump brought up Greenland, not long after Jeffrey Epstein committed suicide. There was a shock value to it that seemed usefully distracting. The h8ful media converged on Trump. What did he know about Epstein and when did he know it? Long ago, he told New York magazine, "'I've known Jeff for fifteen years. Terrific guy…He's a lot of fun to be with. It is even said that he likes beautiful women as much as I do, and many of them are on the younger side….'" But now Trump's "no fan" and he advises the pressing press to "Find out the people that went to the island." Classic deflection.
It turns out that all kinds of people have been to Little Saint James, Jeffrey's getaway retreat in the British Virgin Islands, including Bill Clinton, Stephen Hawking, Alan Dershowitz, Prince Andrew and Kevin Spacey. Clinton said he was there just minding his own 'is-ness'. Dershowitz is alleged to have had sex with an under-age girl. The Prince is a podiaphile and was there to get a sole rub. Spacey's one-card-too-many career came famously tumbling down (but not necessarily at the island). Hawking's inclusion was a shocker: I shot up, like a meerkat, as if you'd told me Ralph Nader had broken bad and was now a serial killer. But Hawking wasn't there for the sexual cosmology, but rather he'd dropped by for refreshments following his appearance at a Epstein-sponsored conference on gravity on nearby St.Thomas Island.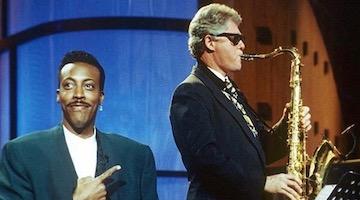 Dershowitz may have had no contact with teenage girls, but he might be guilty of something even worse — as a lawyer for the firm Kirkland and Ellis, he was able to get felony charges of sexual trafficking of underage girls, a conviction that could have imprisoned Jeffrey Epstein for life, reduced to a single count of prostitution, leading to Epstein receiving just 18-months at a minimum security "stockade." His door was unlocked. He was on daily work release to a company he set up for the work release (and tore down the day after his sentence was finished). He had five months knocked off — for good behavior. Alexander Acosta, Trump's Labor Secretary (who recently resigned), was the Florida AG who signed off on the evil deal.
Balance and fairness requires us to remember that Jeffrey Epstein was a human being, and not just a predator. New York magazine said Epstein had an 'elegant' mathematical mind. His was an "an in-depth knowledge of twenty-first-century science," according to his friend Bill Clinton, returning Epstein's regard for him as "the world's greatest politician" (swapping intellectual spit, as it were). Epstein had refined cultural taste, and was "a classically trained pianist." He gave money to causes.
Have we earned the right to be 'astonished' and breathless at the scope of the doings of satyrs like Epstein? As a culture, we have saturated ourselves in venality, since long before the Internet turned it into another crisis. There is a lurid undertow to our thinking that conveniently forgets the exploits of capitalism enforced by fascist-corporate powers. The fact is, the world is pornographic, and our desires are worked on from the gitmo.
We've had smash hit popular songs that seemed to ache for underage sex — in the Fifties, Maurice Chevalier singing "Thank Heaven for Little Girls." Gary Puckett and the Union Gap in the Sixties: "Young Girl." Later, in the Eighties, we all danced to the beat of Sting singing "Don't Stand So Close to Me," an openly urgent paen to overwrought temptation. Pop music is known for male musicians having to fend off groupies tempting their urgency.
Similarly, an impressive number of mainstream nymphet movies have been produced, including two versions of Lolita. And there have been all kinds of kiddie pageants that have clearly sought to exploit and sexulalize little girls in disturbing ways, including the pageant depicted in the film, Bad Grandpa. The outrageous scene staged in this movie is not just a film fantasy — it happens in real life — and they are images that stay with you afterward. It starts this early: The monetization of desire. These children are already broken in for Google, Amazon and Facebook algorithms.
Literature, too, is rife with images and tales of underage love. We all know about Nabakov's Lolita, and the stigma attached to reading it. That's too bad, because it's great literature written by a master of lyricism. And as provocative as the subject matter is, what is often overlooked is its poignant and sharp critique of American hypocrisy — vis-a-vis sexual mores.
This kind of literature traces its roots back to Europe. An early and, no doubt, influential forerunner to Lolita is the Marquis de Sade's Justine. One can hear in this passage the later Nabakov:
"O thou my friend! The prosperity of Crime is like unto the lightning, whose traitorous brilliancies embellish the atmosphere but for an instant, in order to hurl into death's very depths the luckless one they have dazzled."
There's more than a trace of Humbert Humbert in the sentiment.
You can wonder how all this sleaze and prurience continues to spice up the sexual olio of the world's premiere corpocracy, where the Pleasure Principle is in full swing, and the rhyme or reason of our continued existence on this planet could be summed up in the advertising slogan: De-evolution for the hell of it. Your wonderment might have you hovering and circling, like a drone, over another kind of island, near San Francisco — an Enchanted Forest, where rich men gather, like Halloween Druids, under a full moon and the watchful eyes of a stone sage Minerva. A retreat to help such men move forward. And look, Kevin Spacey is there, beckoning us, speaking into our lens, telling us this is where the power of the world comes to rejuvenate.
Bohemian Grove. An exclusive club for men, who bring their own silver spoons to the round table to feed on the golden porridge served up by young men dressed as distressed damsels, Globe Theatre style. They're all there, if we look through our romper room magic mirror — members and guests — Bill Clinton sitting knee-to-knee with Kirkland and Ellis' Ken Starr ("Is that your Is-ness, Bill?" Ken asks, "or are you just glad to see me?"); Kevin Spacey playing solitaire; Prince Andrew with his feet up on the table; Alan Dershowitz lispening to Mike Tyson's grin; Alexander Acosta picking pleas out of his mangy mane, like the Cowardly Lion. An opium-smoking Henry Kissinger playing Risk with the wispy ghost of Ho Chi Minh.
From the Mind of Minerva™, comes the voice of Walter Cronkite, like a voice transvestite. By himself now, crouched on a couch, Harvey Weinberg casts spells to complete his dis-enchantment. They are waiting for the play to begin — Teddy Bear's Picnic. A story about white males who see themselves as men, with spoons (and bears), who never have to grow out of their privileged childhoods, and who only yearn harder for mommy's liebfraumilch smile as they get older. They rule the world, and don't they know it. Humbert Humbert is said to be there to play a cameo teddy and to read from Justine.
Later, there'll be stand up comedy. This year, US attorney general, William Barr will deliver shtick, including one routine with Donald Trump — presently tying a golden shower around an old oak tree. Barr will be delivering prison limericks, political anecdotes he overheard, and pun-stories he remembers from summer camp — such as "If the Foo Shits Wear It." He's also promised to read choice excerpts from the Mueller Report. The round table of besotted Nights will chant merrily, "Diss Barr Bill. Diss Barr Bill." Oh, and when the night's over they will erupt, like little hands that gleefully laud a magic show and thrill for more. Always more.
And, by remote control, you will pull your drone back, let the laughter fade, ascend back into an ethereal oblivion, interrupted only by occasional bolts of news-spin lightning (the "traitorous brilliancies," LOL) of Men at Work extinguishing the species, all of them.
As Matt Taibbi recently points out in his new book Hate, Inc., we are divided, fractious and falling apart fast, the whole world is watching, and we are the world, we are the children. Rome was not destroyed in a day; it started by crossing taboo rubicons in ruby shoes, and ends, after all the trials and ordeals, with two men talking. Fookin' lawyers wouldn't you know it.
It's not dark yet, Bobby Dylan sings, but methinks the bard is wrong this time around. We could learn something from Greenland, instead of, say, buying it, as we look, at paradigm's end, in on the power broker's at the table, unable to tell animal from human, like in the end days of Rome, wondering what became of Boxer, our working class hero, the glue of society.
Fade to stark raving dark.
John Kendall Hawkins is an American ex-pat freelancer based in Australia. He is a former reporter for The New Bedford Standard-Times.

Rachel Maddow: 'Lock him up!"
Sean Hannity: 'Lock her up!'

Bruno Sammartino, Killer Kowalski, Professor Tanaka, The Fabulous Moolah, The Sheik, Haystacks Calhoun, Chief Jay Strongbow, Ivan Koloff "The Russian Bear," Billy Graham, Colonel Ninotchka, and The Progressive Liberal. Turnbuckle nose jobs, sleeper holds, flying splats, head chairs, an occasional Curley Shuffle, tag-team terror, caged grudge, and emcee Vince McMahon. Hatred never had so much fun wrestling with Truth.  Until Now. Entering the ring, none other than WWE Hall of Defamer, the one, the only, Donald J. Trump, aka Saint Grobian, champion of the deplorables, who onced "schlonged" Hillary Clinton, and is feared for his legendary hold, The Pussy Snatch.
According to Rolling Stone staff writer Matt Taibbi, this is the state of affairs in national politics today — a Spectacle of bizarre performers flipping each other in the public arena, to the titillation of the rabid masses, like some scene from the classic movie, A Face in the Crowd.  They are divided Left and Right, polarized bears wrassling over baby seal meat on the world's last floe, united by their choreographed hatred for each other. The End of the World as Reality TV. Great ratings.  Matt Taibbi calls it all Hate Inc. — his new book.
Rachel Maddow and Sean Hannity face off on the cover of Hate Inc.  Loud Democrats versus Loud Republicans.  Of the two, Taibbi takes issue with Maddow more because he sees her as "smart, quick, and funny," and should know better than to slog the slimey end of Trump and Russiagate the way she has. Meanwhile,  "The Sean Hannity Show is an uncomplicated gruel of resentment, vituperation and doomsaying," writes Taibbi. Both adhere, to varying degrees, to what Taibbi calls The Ten Rules of Hate, which include notions like, "There are only two ideas," "Root, don't think," "No switching teams," "The other side is literally Hitler," and in fighting that other side everything is permitted.  For Taibbi, they are two faces of the coin of the fucked-up Realm.
We've been at the bread and circuses so long in America that it's now difficult to conjure up the sad, but heady, days of catharsis that followed Dick Nixon's TV resignation in 1974. Goodbye to 'dirty tricks' and, soon enough, the Apocalypse Then of Vietnam. We weren't happy with Gerry Ford's pardon of Nixon, but we managed to sublimate our bile through Chevy Chase's regular depictions of Ford falling over himself on SNL. With Ralph Nader, Noam Chomsky, Woodward and Bernstein, pushing to keep the Bastards honest, and with peanut farmer president Jimmy Carter, our dove among the warhawks, we felt we were moving toward our manifest destiny again. And the locusts sang that sweet mellow dee….
And then, lo, what rock through yon window breaks?  Carter announces he has had lust in his heart for "other" women and admits so amidst all the pink bunnies spread out all over the place in the pages of Male Gaze Magazine (November 1976).  Next thing you know, the press went berserk, and every time people started to forget about bunnies, and get back to kumbaya in the Middle East, John Updike put out another goddamned Rabbit book. Then Carter got into trouble again in 1979 when a naked bunny on the loose came swimming at his canoe with enough apparent purpose that he thwacked at "her" with a paddle. It was, all in all, a decade down the rabbit hole.
Well, it really wasn't much of a hop to get from Carter's hypothetical transgressions of the heart to Bill Clinton's days of jizzy improvisation in the White House, a certain intern playing "Blind Willie Leaps" on his sexaphone, and all hell breaking loose inside the DC beltway (where belts never stay up long anyway) — the media frenzy, the special counsel, the calls to impeach, the partisan poli-dicking. The Clinton Show opened up a whole new can of whoopee-honkytonk.  Anita Hill, Judge Thomas, pubic hair. "What is is." You felt you were tripping.  And some openly wondered how many people in Bosnia and Aftica were being taken out by cruise missiles to "detract" from the rocket's red glare of Willy's jism cycling the news back home.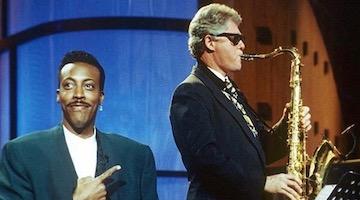 Then after the palette-cleansing events of 9/11 wiped the smirks off our faces in a hurry and turned a whole lot of us into overcompensating conspiracy-fearists for about ten years, here we are, back in the criminal slime of celebrity sexual promiscuity. Now, with Russians.™ The phenomenon that is Donald J. Trump. He's not only lusted after bunnies, he's grabbed them by the pussy. Now we're trying to figure out whether he grabbed Putin by the pussy, or if it was the other way around. And that's all anyone cares about in America. Climate change? Nyet. Late stage capitalism? Nyet. Overpopulation? Nyet. Fashionable fascism? Nyet. Multiverses and the Singularity? Nyet. Welcome to America in 2019.
Hate Inc. brilliantly captures the current circus atmosphere and explores its roots in the political, economic and technological transformations of the last half century. Taibbi writes, "The Soviet Union let us all down by collapsing under the weight of its sociopathic leadership and systemic corruption, removing both itself and global communism as a functional adversary."
That sucked. White Hat now alone in the spotlight, exceptionalism and neoliberalism looking more like Don Quixote than Sir Lancelot. So the Russkie demons had to be resurrected: Thank God Putin's an asshole; it gives us something to work with. They gave us Sputnik; we gave them Stuxnet; now it's their move.
Taibbi trots out his linguistic mentors early — Noam Chomsky and Hunter S. Thompson.  One can see both at work in Taibbi's style. He's always keenly aware of the so-called "propaganda machine" that Chomsky in Manufacturing Consent, argues is behind all news production, the hidden vested interests, the profit-driven requirements of being in business, pandering to a readership. However, Taibbi's prose is anything but academic; rather, it follows in the hip, snarky tradition of Hunter S. Thompson that is appropriate for a staff writer at Rolling Stone magazine. 
The Russian disappointment aside, Taibbi locates the beginning of the corruption of good, solid journalism in the aftermath of the Vietnam War. Far from seeing the end in Nam as a military loss, let alone a moral loss, American war hawks came away angry that ruptures in the narrative — Daniel Ellsberg's Pentagon Papers, Sy Hersh's My Lai account — had undermined and betrayed the so-called Noble Cause.  "The post-Vietnam story blamed an 'excess of democracy' for the loss," writes Taibbi, "especially in the media: loserific criticism of our prospects for victory undermined the popular resolve to keep fighting a winnable war." 
The Excess of Democracy silliness sounded ominously Kissinger-esque. He'd said of events in Chile, "I don't see why we need to stand by and watch a country go communist due to the irresponsibility of its people. The issues are much too important for the Chilean voters to be left to decide for themselves." It was as though the hawks and chickenhawks had replaced 'communism' with 'democracy' and Chile with America.  New policy followed: Control the Messenger. One ex-CIA operative, Duane Clarridge, pardoned for his crucial role in the illegal anti-Sandinista campaign in Nicaragua, was shockingly candid with John Pilger about the fascist engine of American imperialism — "get used to it world," it's who we are. 
This 'national security' attitude became policy toward journalists from Nixon onward, ratcheted up incrementally through the administrations until after 9/11. You could argue that the national political beat became little more than the propaganda arm of the War on Terror.  As Glenn Greenwald and others have repeatedly charged over the years, the national press corps are made up of little more than stenographers being fed unattributed, often-uncheckable information.
Taibbi believes that part of the reason for the change in spirit that came over journalists is class-related. He writes, "…[B]ack in the day, reporters often came from a different class than the people they reported on in government. He relates the story of old school journalist Walter Winchell who was asked if he worked as a reporter: "He supposedly joked in reply: 'Yeah, but don't tell my mother. She still thinks I'm a piano player in a whorehouse.'"
That changed after Nixon and Watergate, he recounts.  "Ironically, All the President's Men, which made reporting glamorous, was about adversarial journalism. But the next generation of national political reporters viewed people in power as cultural soulmates because, at least socially, they were." Suddenly, they were in a Georgetown nightclub together, grooving on Mose Allison tunes.
The economics of journalism has also played a role in the changes Taibbi alludes to.  The media mergers of the '80s and '90s downsized the market, resulting in fewer outlets for news, which, combined with the ascension of the Internet in the late 90s began to affect revenue streams, especially for the press.  Eventually, Taibbi argues, this began to affect news coverage and led to the transition to the current partisan bickering that represents contemporary coverage of events, especially national politics. It's all come together like never before under Trump. 
Taibbi observes, "Few seem troubled by the obvious symbiosis between Trump's bottom-feeding scandal-a-minute act and the massive boom in profits suddenly animating our once-dying industry (even print journalism, a business that pre-Trump seemed destined to go the way of 8-track tapes, has seen a bump in the Trump years)." Trump often refers to the "failing" New York Times, and categorizes other mainstream media outlets as purveyors of "fake news," but such attacks have done wonders for their bottom lines.
As the Peabody Award-winning Linda Ellerbee used to say, closing out her NBC Weekend stints in the 1970s, "And so it goes."
Now that Robert Mueller's testimony before Congress last week ended as flat as a whimpering bagpipe, instead of the big bang smoke that Democrats were hoping to get from Mueller's mushroom cloudy brain to fuel impeachment proceedings, we move in our spectacle to the last wrassling encounter on the programme. In this corner, Saint Groban, whose own government distrusts him with the country's top secrets. And in the other corner, Julian "Wicked Leaks" Assange, wearing his fearful torn-condom mask, who the Trump administration wants to prosecute for espionage and journalism.  A grudge match. The Pussy Snatcher versus The Sleepy Hacker. An atmosphere of pure hatred. Applause. The bell rings, we salivate.
Counterintuitively, The Whorehouse Pianist plays Rachmaninoff, musical pearls rolling before runting swine. Hunter S. Thompson would have loved it, dropping down another shot of whiskey, and heading upstairs for another round.

"Something there is that doesn't love a wall," writes old man Frost, and, "Before I built a wall I'd ask to know / What I was walling in or walling out, / And to whom I was like to give offence." Surely, wisdom as wise as the Golden Rule itself. But, as with the Rule, not everyone sees it that way. Take President Donald J. Trump, our golden ruler. He loves walls. He says his first wall moment was when he all-but swindled his way into his Palm Beach Mar-a-Lago estate in 1985. He offered the owners, who had the estate on the market, $25 million, which they turned down. So he threatened to buy property next to Mar-a-Laga and put up a wall that would block their view of the ocean. In a panic, they ended up selling the estate to Trump for $8 million.
"That was my first wall," he told the Post. "That drove everybody nuts. They couldn't sell the big house because I owned the beach, so the price kept going down and down." One of the first things Trump did was to replace the relatively modest hanging portrait of the previous owners with one of his own: "Trump is depicted as a bronzed, blond-haired god, or, as a plaque at the bottom of the frame proclaims, 'The Visionary'."
Most recently, our blonde-haired god surprised Spain with his 'vision-thing' of a wall spanning the Sahara to keep out migrants. Josep Borrell, Spain's foreign minister, at the risk of adding to climate change woes, tried to take some of the me-vain gas out of the golden boy's balloon ride by informing him that the Spanish span would be some 3000 miles, about 500 miles more than the width of America.
Not long ago in Scotland, Trump brought out the worst (or the best, depending on how you look at it) by trying to 'evict' some local residents from property near his golf complex in aptly-named Menie. When they wouldn't be evicted, Trump pulled his Mar-a-Laga trick and put up trees to obscure their view. Locals seem to have returned the favor by emplacing a series of "ugly" wind turbines in the sea over which Trump's golf estate looks. Similarly, In Ireland, Trump's plans for a wall at his coastal golf course in Clare County, upset locals who feared it would harm wildlife. And it was also meant to keep Limerick residents out. Some of the latter managed some choice words in response. Walls to keep people out.
Of course, this thing about walls is not always so chucklesome or so explicit. Take the Sunni/Shia war in Yemen. The Saudis have built a wall along the 1000-mile border with Yemen. This not only keeps Shia riff-raff (almost all of them, by Saudi standards) from crossing into Saudi Arabia, but keeps them locked in as well. Yemeni ports have been closed by the Saudis since 2015. There is nowhere to go, and little food or medical aid, as Saudi and Emerati jets and drones drop American-made bombs and missiles on fish-in-a-barrel civilians — women, children, even Doctors Without Borders. So indiscriminate is this campaign at times that even innocent American citizens have been taken out — by Americans. It gives one pause, in this the 50th anniversary of the My Lai massacre. Trump doesn't mind what goes on behind closed walls or minds. When he was recently kow-towing in the Kingdom he signed an agreement, begun under Obama, to provide another $350 billion in arms sales to keep hate alive in the Middle East. Walls to keep people in.
Last year Trump became the first sitting US president to stand before the "so amazing" Wailing Wall in beloved Israel. (The wall let's you touch it and everything.) And one thing Trump is, depending upon what your definition of is is, is touchy. No doubt, he immediately wanted to buy it, or have one of his own. You can bet there was no wailing or gnashing of his picket fence white teeth for the Palestinians that live a walled-in existence in Gaza or the occupied territories.
Word is, from an anonymous source, that he's thinking of purchasing the Vietnam Memorial in Washington. That way he can visit it with his chin up. But first he'll have to have it re-etched, deleting the names of all the 'Nam vets, and replacing them with all the names of those 'elites' who dodged the draft and eluded a tour in 'Nam. A special section will bear those who went on to become Commander-in-Chiefs.
Something there is that doesn't love a wall, but Trump ain't that something.
Some people argue that Trump is trying to build, at the Mexican border, a new Berlin Wall. It was good for keeping people out (the Democratic West) and excellent for keeping people in (the fascist commie East). It offended everyone. It especially offended the citizens of East Berlin, some of whom managed to escape in a brain drain surge, while the lives of many others were cut down trying to scale the wall. So paranoid did the GDR authorities become at the prospect of losing their best brains to the West that their not-so-secret secret police, the Stasi, made it their mission to read the minds of those forced to stay behind in the dingy doldrums of the GDR. Everyone was jubilant when the wall finally came down, symbol of tyranny and all that, and the wonderful West was quick to capitalize on the fall, selling chunks of the wall as keychain souvenirs within. Freedom, right? Or as Dylan sang, "It's easy to see without looking too far that not much is really sacred."
But the real lode Mother Russia (foster, of course) was the trove of secret database materials that tracked the doings and thinkings of citizens throughout concentration city. Anyone caught thinking about going Beyond the Wall was subject to interrogation and torture. As Amnesty International points out, it's a cautionary tale, "The Snowden revelations suggest the NSA can collect 5 billion records of mobile phone location a day and 42 billion internet records – including email and browsing history – a month." To get a sense of what information they already can collect on you, whether your a terrorist or not, simply type in: myactivity.google.com (google account holders). Imagine the Internet not as a leap to Freedom but as a firewall locking you into Paranoiaville. Once again, as our ig-Nobel monster songster Dylan sang so presciently all them years ago: "If my thought-dreams could be seen, they'd probably put my head in a guillotine." And Trump would probably volunteer to do it, Bob.
Speaking of Google and their 'do no evil' hypocritical oath, they are busy making the Stasi look like lightweight heel-grinders by comparison. Most recently, Google has been discovered to be helping to build and reinforce the Great Firewall of China, a process that, like as with the Stasi, includes not only snuffing out 'free thought' searches, but also keeping track of those who try to escape over the firewall to places like…America, home of Exceptionalism. Of course, such a Google-led system in China is a great place for the company, with its close ties to the NSA, to construct a template for totalitarian control of a populace. China's Great Wall, 13,000 miles long, and built to keep out Genghis Khan and his barbarian ilk, was an inspiration to Donald Trump. You can't get Great Wall chunks on ebay, but when I visited the Wall a few years back, a yak came along and shat on my shoe in a chunky souveniring kind of way I will always treasure (sorry, no pix).
Something there is that doesn't love a wall; they're going up everywhere, while Trump has his 'lover's quarrel with the world'. According to The Atlantic's Uri Friedman, "Of the 51 fortified boundaries built between countries since the end of World War II, around half were constructed between 2000 and 2014." Trump must be loving it.
He must be loving it so much that you can picture him going into a Walmart (natch) and trying to con the franchisee in to putting up pictures of his favorite worldly walls on a far wall of the store, which he promises to make customers pay to build. If the proprietor should be silly enough to refuse, Trump could pull a Mar-a-Laga and threaten to obscure the view of the wall of guns covering the opposite wall. You can almost feel the gunseller's panic ensue.
All of this brings us back to Trump's Mexican Wall, for which I have a modest proposal. Trump could offer to resolve the trade war with China by offering to by up, let's say, 400 miles of their precious wall. Trump could point out that 'they owe us one', since we shipped to them thousands of tons of steel at a discount price shortly after the Twin Towers fell. That leaves about 400 miles to go. Trump could whisper sweet nothings into Angela Merkel's ear walls, promising to forgive Germany's underpayment for US military protection if she could part ways with, say, 100 miles of the defunct Berlin Wall. That would leave just 300 miles needed. Trump could sign an executive order that would rescind the right to own human-killer guns (AR-15s, handguns) and gather them all up, fusing them together at the Mexican border in an iconoclastic postmodern statement of God knows what. Side by side — the Guns, the Great Wall, and the Berlin Wall: Who would want to cross the border into what might lay behind that kind of modern art?
Something there is that doesn't love a wall…
Mostly these days Trump must be climbing the walls of the Oval Office (only to discover they have ears) and thinks, 'the ears have walls', and he pictures impermeable cell membranes, and cries, "Os Mosis — who are you?" Or some other Crazytown shit. And now, as the walls build up around him — anonymous op-eds, pussygates all over America — "fabulous" walls of his own making, a twisted and endless maze, down which he moves "like an old-stone savage armed," chasing his own echo, and comes to a final wall, a mirror of mirrors, where our golden-haired minotaur flings a chunk of his ego, and watches as everything comes crashing down around him, a Tarantino ending, with himself, and reveals: the minotaur is the maze: the final offense.